Keith Scott playing a free show before Mr. Blotto and Greg Jacks in the Music Joint
Enjoy $14 Po Boy Sandwiches (Steak or Shrimp)
Gumbo Soup, and $7 Hurricanes!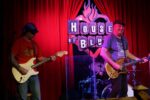 KEITH SCOTT
Keith Scott is one of Chicago's most vibrant musicians. For the past 20 years he's built his reputation as a sizzling blues guitarist, dynamic performer, noteworthy songwriter and bandleader. Keith has toured the U.S. and Europe both with his band and blues great Jimmy Dawkins.