Legions of Metal Fest 2023 (June 2nd and June 3rd)
VIP 2 day pass $130 | 2 day pass $89 | Saturday only VIP $80 | Friday only VIP $70
Saturday only $55 | Friday only $50 | Saturday after 9pm $35 | Friday after 9pm $30
VIP includes: Access to VIP ticketholder lounge, Food Buffet, and Band Meet & Greets Note: no specific bands or band members are guaranteed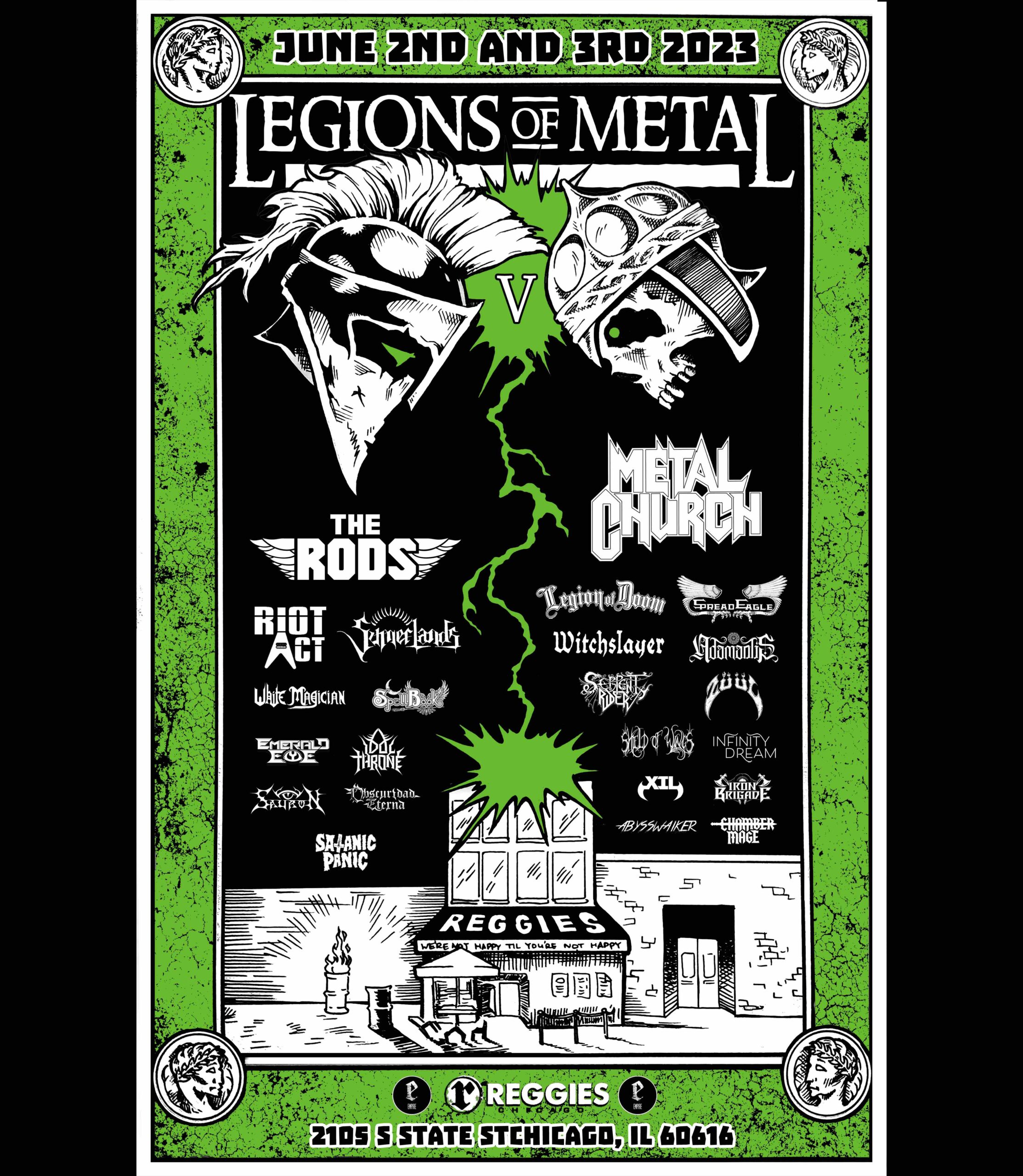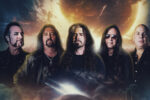 METAL CHURCH
(first show in the world with new singer, first show anywhere in over 3 years)
Formed in San Francisco in 1980, Metal Church consisted of vocalist David Wayne, guitarists Kurdt Vanderhoof and Craig Wells, bassist Duke Erickson, and drummer Kirk Arrington. Their 1985 self-titled debut album, recorded when the thrash/speed metal genre was still evolving, made a huge splash on the scene, as did its follow-up, The Dark. However, the band really hit its stride when Wayne left and was replaced by Mike Howe on 1989's Blessing in Disguise; Vanderhoof left after the album due to his dislike of touring and was replaced by Metallica guitar tech John Marshall. Vanderhoof remained the group's designated composer on 1991's The Human Factor, possibly the band's most socially conscious album yet. However, the advent of alternative rock and problems with their record label contributed to a loss of direction on 1993's Hanging in the Balance, and Metal Church ended up disbanding. In 1999, the group's original lineup — Wayne, Vanderhoof, Wells, Erickson, and Arrington — reunited and released the album Masterpeace. The ensuing years saw the group undergoing numerous lineup changes and assorted members tending to other projects. In 2004, the band issued their seventh full-length LP, the critically acclaimed Weight of the World, which marked the debut of new vocalist Ronny Munroe. Tragically, former vocalist David Wayne died the following year from complications resulting from a car accident. 2006's A Light in the Dark included a re-recording of 1986's "Watch the Children Pray" as a tribute to their fallen comrade. Shortly after the release of 2009's This Present Wasteland, the band announced that they would be going their separate ways once again. A reunion show in 2012 eventually led them back to the studio. The resulting Generation Nothing, their tenth studio long-player, arrived the following year, and the aptly named XI appeared in early 2016, marking the return of vocalist Mike Howe. A concert album culled from the XI tour featuring Howe appeared the following year under the title Classic Live. Continuing their prolific run, they issued their 12th set, Damned If You Do, in late 2018. Vocalist Mike Howe died at his home in Eureka, California on July 26, 2021. He was 55 years old. ~ Steve Huey, Rovi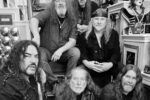 LEGION OF DOOM
(members of The Skull, Trouble, COC, Pentagram, St Vitus playing classics from all)
Legion of Doom is a Doom Metal Supergroup featuring members of Trouble, The Skull, Saint Vitus, COC, Leadfoot, Blood of the Sun, Lie Heavy, and Sacred Dawn!!
Have you ever wanted to hear all the heavy in one place? From its origins onward? 
After the untimely passing of Eric Wagner (Trouble, The Skull), one of doom metal's most notable and esteemed singers and songwriters, The Skull bassist and bandleader, Ron Holzner contemplated long and hard on whether it would be possible to carry on. Nine months and a lot of soul searching later, an idea was born. 
Recalls Holzner, "I decided I want to honor the memory of Eric by still playing some of the songs that he crafted, and ones that Lothar and I wrote with him. I want his spirit to become eternal through his words and melody. And I also want to play many songs from the catalogs of everyone involved." 
Alongside guitarist Lothar Keller (The Skull, Sacred Dawn) and drummer Henry Vasquez (The Skull, Saint Vitus, Blood Of The Sun), Holzner decided to reach out to his longtime comrade, vocalist Karl Agell (Corrosion Of Conformity, Blind, Leadfoot, Lie Heavy) as well as vocalist Scott Reagers (Saint Vitus). And so LEGION OF DOOM has come to exist with an all-star lineup of some of doom's most prestigious figureheads, here to share their ultimate heavy truth, taking the genre from what is known into uncharted territories. 
"I would like to keep an open rotating guitar spot within the band", notes Holzner, "This will keep us on our toes and keeps things fresh and different and ever changing. We have many friends we would like to jam with. Victor Griffin ( Place of Skulls, Death Row) was first to jump aboard, but conflicting schedules forced him to step aside for now. 
Comments Keller, "Continuing The Skull in some kind of form seems like the right thing to do. LEGION OF DOOM is a perfect way to continue bringing doom metal to the fans! There is new music to finish and it's important for us to follow through with bringing it out for everyone to hear." 
"This is gonna be a monster," adds Vasquez. 
"I have always gravitated towards heavier music. I have been involved with making it for over four decades," reflects Agell. "When Ron asked me to join him in carrying on the doom metal tradition that he was part of and established first with Trouble and then The Skull, there was only one path forward. It's been a great honor to sing Eric Wagner's words and melodies and I truly look forward to performing songs from the massive legacy of all the members of LEGION OF DOOM." 
"Ron approached me and asked if I would be interested in participating in first a tribute to Eric Wagner who was a dear friend of mine and then a new musical adventure," recalls Reagers. "We both concluded that we were not done with metal. How could I say, 'no?!' Karl, whom I respect and admire, adding his incredible vocals to this ensemble. My dear friend and bandmate Henry,  the great Lothar Keller, and Ron whom I have known forever… This venture is gonna be fun. I look forward to working with these gentlemen!" 
Concludes Holzner, "We are all seasoned veterans of the music business and prefer to let our music do the talking… And our music is gonna be speaking loudly! All the fans and bands…We are family. Combined, we are all the Legions Of Doom!" 
LEGION OF DOOM will make its debut appearance at Legions Of Metal Fest in Chicago this June before heading overseas for a performances at Hellfest in France and The Graspop Metal Meeting in Belgium…….with more live dates to be announced in the weeks to come. 
ron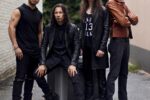 SPREAD EAGLE
Remember when we could afford to live in Manhattan? Before it became a clean, safe, lipsynched island of trust fund babies? Remember when we could walk down Avenue A swilling a 40oz, or when we COULDN'T walk down Avenue B, for fear of our lives? Remember when the dirty East Village streets influenced a sound that was as real as the City was? Remember the name Spread Eagle? That's right, SPREAD FUCKING EAGLE! Well, the seminal roving Streetmetal gang is back with an even badder attitude. They're pissed off about what's happened to their city, and have something to remind us about. In a time when everyone's wondering where New York is headed, what you really need is a glimpse of where it came from. Where WE came from. Spread Eagle promise to put the word DANGER back into the absent minds of rock and roll. The first order of business is the highly acclaimed new studio album "SUBWAY TO THE STARS". Dig your claws in and take a look back…to the future of New York City ROCK.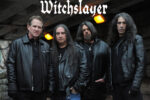 WITCHSLAYER
Hailing from Chicago, Witchslayer consists of 4 of Chicago's best Metal musicians. Jeff Allen – Vocals, Ken Mandat – Guitars, Mick Lucid – Bass, Gabriel Anthony – Drums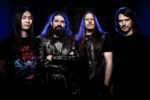 ADAMANTIS
Already a cult curiosity via their 2018 Thundermark EP debut and initial self-release of their 2020 Far Flung Realm first full-length, Massachusetts power metallers Adamantis quickly entered the collective global melodic metal conscience when they signed with Cruz Del Sur Music. The first order of business was to re-release Far Flung Realm. In doing so, Adamantis was immediately thrust to the top of various "best newcomer" lists — proper accolades for an album that so brilliantly recaptured the spirit of 1990s European power metal. Looking to strike quickly and with unexpected time on their hands thanks to the pandemic, Adamantis is back with the four-song The Daemon's Strain EP, set to be released in April 2022.
No longer one of American power metal's best-kept secrets, Adamantis has crafted an EP of depth and triumph — a sterling display of memorable, anthemic melodic metal. It is the next logical step for a band that has displayed that the sky is the limit through two EPs and one triumphant full-length.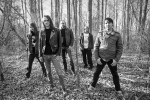 ZUUL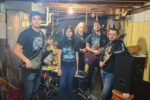 SERPENT RIDER
Arcane and mystical Seattle epic heavy metal!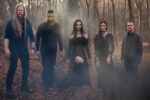 SHIELD OF WINGS
A REBIRTH'S BEGINNING… Shield of Wings is Chicagoland's premier Epic Symphonic Metal band. Infused with melodic, folk, and death metal, it is a fresh twist on the genre, sure to perk your ears. In 2022 the band released their debut full-length album, Unfinished, which has brought into view 10 new bombastic compositions of poetic exploration. Each song from Unfinished explores themes of growth through self-examination, regret, sacrificial death and rebirth.
Shield of Wings is:
Lara Mordian – Vocals
Aliyah Daye – Support & Harsh Vocals, Keys
James Gregor – Guitar & Orchestrations
Patrick Eulitz – Drums
Alex Luke – Bass Guitar