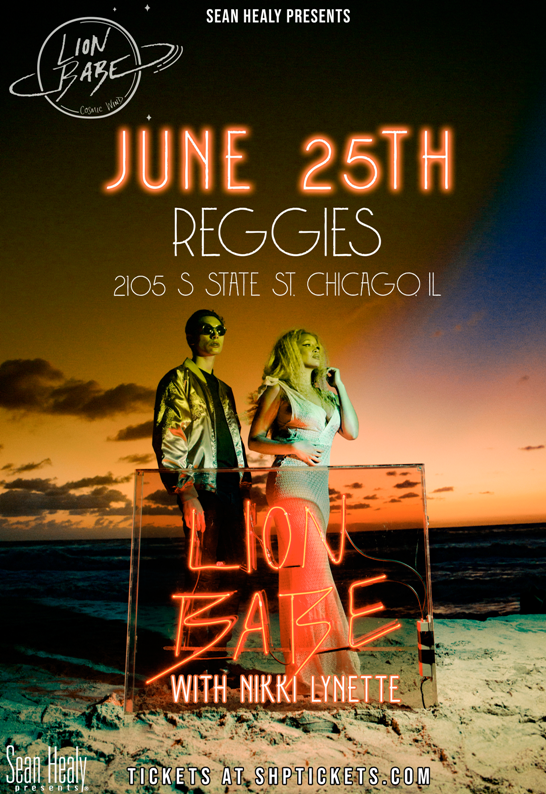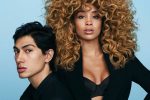 LION BABE
LION BABE IS A NEW YORK BRED FUNK AND SOUL DUO COMPRISED OF MULTIDISCIPLINARY ARTIST JILLIAN HERVEY AND PRODUCER/DJ LUCAS GOODMAN, (ALSO KNOWN AS ASTRO RAW.) THE PAIR ARE KNOWN FOR THEIR UNIQUE SOUND AND LOOK AND ASSOCIATE THEMSELVES WITH THE TERM 'FUTURISTIC NOSTALGIA' TO DESCRIBE THEIR GENRE. LION BABE BLENDS VINTAGE COLORS WITH MODERN SONICS. THEY STARTED WITH THEIR BREAK OUT SINGLE "TREAT ME LIKE FIRE" IN 2012, WHICH QUICKLY GARNERED ATTENTION ACROSS THE GLOBE.
SINCE THEN, THE DUO HAS BEEN STEADILY RISING, AND HAVE RELEASED ONE LP TITLED "BEGIN" (2016 WITH UNIVERSAL) INCLUDING "WONDER WOMAN" PRODUCED BY PHARRELL WILLIAMS, ALONG WITH "JUMP HI" FEATURING CHILDISH GAMBINO. THEY FOLLOWED WITH THEIR MIX TAPE "SUN JOINT" FEATURING JUNGLEPUSSY, RAURY AND ANGEL HAZE. JILLIAN ALSO CO – WROTE AND SANG "HOURGLASS" ON THE GRAMMY NOMINATED DISCLOSURE ALBUM "CARACAL." THEY ARE KNOWN FOR THEIR MAGNETIC PERFORMANCES, BOTH AT INTIMATE FASHION AND ART PARTIES AS WELL AS MAJOR FESTIVALS LIKE GLASTONBURY AND THE MAIN STAGE AT COACHELLA. THEY HAVE ALSO PERFORMED ON TV FOR THE THE SOUL TRAIN AWARDS AND THE TODAY SHOW, (WHERE THEY PERFORMED THEIR COVER OF TOM JONES' HIT "SHE'S A LADY," WHICH WAS ALSO USED FOR H&M'S GLOBAL CAMPAIGN)
IN 2018, LION BABE RELEASED SINGLES "ROCKETS" FEATURING MOE MOKS, "HONEY DEW" AND "HIT THE CEILING" WHICH WAS FEATURED ON HBO'S HIT SHOW "INSECURE." THE DUO ALSO WROTE AN ORIGINAL SONG "JUST ME" FOR SEASON 3 OF "INSECURE" WHICH IS FEATURED ON THE SHOW'S SOUNDTRACK (CURATED BY RAPHAEL SAADIQ.)
THIS YEAR THEY HAVE RELEASED COVERS OF CLASSICS "GET INTO THE PARTY LIFE" BY LITTLE BEAVER AND CARLY SIMON'S "WHY." THIS HAS ALL LED UP TO THEIR NEW ALBUM "COSMIC WIND" FEATURING PRE – RELEASED RECORDS "THE WAVE" FEATURING LEIKELI47 AND THEIR NEWEST SINGLE "WESTERN WORLD" FEATURING WU-TANG CLAN'S OWN "RAEKWON."
"COSMIC WIND" IS A RECORD THAT SHOWCASES THE BANDS GROWTH AS ARTISTS AND MUSICIANS, AND IS ROOTED IN THEMES OF TRANSFORMATION AND INEVITABLE CHANGE.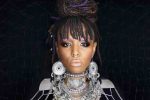 NIKKI LYNETTE
Nikki Lynette is an indie artist whose style is equal parts hip hop, alternative, and pop. Her self-produced tunes have been featured in popular shows on MTV, Fox, Hulu, and more and have garnered digital and print features for publications like Billboard, Bust, and Vibe. Her work has been featured in media ranging from Spike Lee's hit Netflix series "She's Gotta Have It" to Poo-Pourri's viral commercial "Imagine," which won Nikki her first American Music Producer Award. Nikki Lynette fuses activism into her songs and performances and has created a lane for her music that is uniquely her own. She is currently developing a series of shows centered around her "Get Out Alive" social movement that raises awareness for mental health and suicide prevention.