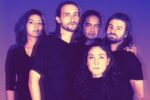 MIDAMERICAN ELEVATOR
Chicago indie-rock band MidAmerican Elevator lifts dreamy vocal harmonies over a busy rhythm section, with guitars traveling between sparkly counterpoint and regenerative drive. On one level they give you Alvvays-like dream-pop vibes. On another, a bit of the Cranberries. On another, the Strokes (if Julian Casablancas was actually two women in a trench coat).
Vocalist-guitarists Paxton Long and Beni Yuzawa met in an elevator in 2013. They found lead guitarist Greg Taylor in a shitty bar in River North, picked up bassist Mike Vendiola through a friend-of-a-friend, and went all the way to Reddit to recruit drummer Dean Sinclair. Together, MAE is playing at stops up and down Chicago, and recorded their debut album—scheduled for release in 2022—at RCM Studios in Logan Square.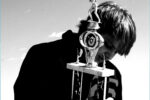 PETITE LEAGUE
Living together in famed Syracuse house venue Scarier Dome hosting shows for touring bands, producing live video sessions, starting a screen printing business while also learning the ins-and-outs of self-recording and releasing records was the foundational stepping stone upon which Petite League was created.
Lorenzo Gillis Cook, songwriter and composer, along with drummer Henry Schoonmaker, came out of the gates swinging with their signature infectious lo-fi power pop releasing their two first records before graduating from college that same year. Petite League's melodic sun kissed brand of indie rock started the buzz right away with some immediate industry, streaming, and publication recognition which helped propel the band forward from the jump.
The band continued to shape itself into a staple of the New York indie rock scene as the band moved to Queens in 2016 enlisting the help of other ex-Scarier Dome residents Adam Greenberg and Kevin McCallum as part of the live band. The DIY mindset of operating Scarier Dome is still the backbone of what Petite League runs on to this day as they continue to release music prolifically, cultivate their online presence, and tour throughout the United States.
ODDYSSEYS
"Boston born Chicago based based post-punk collective Oddysseys are making a big splash with the release of their brand new album titled "Odd Behavior".
The four-piece consists of Christian Treon, Paul DiRico, Josh Corbin, and Mark Pangilinan. The group's sound is a dark, bleak mixture that is intriguing and mystifying when you first take a listen, as the band's uses a combination of creative musical measures to keep the audience's attention span at bay here.
They seem to be making a deep impact when it comes to wowing the listeners. While the band's sound doesn't have flashy melodies or catchy hooks, the band's creative resolve will definitely come into play when creating your impression on this local group, which is blossoming into something very special. An intriguing group that is well worth of taking a deeper listen to."
​– Music Box Pete