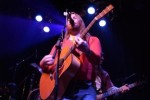 MR. BLOTTO
Mr. Blotto was born in Chicago as an off-night vehicle for musicians who loved each others playing but were in different bands at the time. The only rule was that they would only play what they loved. That philosophy continues today and has led Mr. Blotto into unique musical situations.

Mr. Blotto takes the Jam band asthetic into areas unfamiliar to the standard Jam Scene. They have been known to cover entire albums by Led Zeppelin and the Who as well as perform entire shows of Country and Reggae. Artists as diverse as the Grateful Dead, the Flaming Lips, Willie Nelson and The Velvet Underground have seen their material interpreted by Mr. Blotto in the 2000+ shows the band has performed in the last 15 years, yet covers only pepper the bands hefty catalog of original material stemming from five studio albums and other unreleased crowd favorites.
BIG ANT'S JAM SESSION
Bring your BASS or HORN or GUITAR or STICKS or WHATEVER you play, and come sit in with some of Chicago's best. Big Ants Jam session is an open improv session playing jazz, soul , punk , rock or whatever style of music is appropriate for the time at the time they play it. The ever changing band is curated by drummer, Anthony Capers.
ACIDIC
The hardest-working, hottest young rock band in Southern California – ACIDIC – is at it again! They've been added to Vans Warped Tour '14 – officially confirming 2014 as their biggest year yet!! The boys kicked it off with their first-ever headlining run, the "Electric Cool-aid ACIDIC Tour," that rocked the Rockies and Pacific Northwest in January and February with superlatives: "BEST Wednesday night in a year" – Herman's Hideaway, Denver; and "BEST Monday night EVER" – Machinery Row, Great Falls MT. There are more tours ahead, including a return to KHTQ-FM Spokane's "2Broke 2Rock", and sponsored shows by KJML-FM in Joplin MO and Q106 in Great Falls MT!
ACIDIC concluded an intense 2013 with WJJO-FM's Acoustic New Year's Eve, a third round of special events with that station this year. The boys completed their longest-ever coast-to-coast tour, with Smile Empty Soul last fall. Other 2013 highlights included three tours with Hinder, two tours with Trapt, a sold-out summer Viper Room show and a star turn at Sunset Sessions Rock 2013!, as they promoted their most successful album yet, "Copper Man", convincing the industry crowd they were the buzz band of the night! "Copper Man," produced by multi-platinum award-winner John Ryan of Chicago Kid Productions (Styx, Santana, Lynyrd Skynyrd, Allman Brothers), earned ACIDIC a distribution deal with SONY/RED via MegaForce Records. Motley Crue's Nikki Sixx named both the title track and "Drive Thru" "Sixx Picks of the Week" on his syndicated radio "Side Show." Meanwhile, the hilarious, jawdroppingly-insane "Copper Man" video is nearing 1,000,000 views on Youtube! ( http://www.youtube.com/theacidicband )
Critical raves continue to pour in for ACIDIC on CD and onstage! BLUERAIL.com: "Frontman Michael Gossard is a force of nature, connecting to his audience and his band mates in ways that make an ACIDIC show highly electrifying." RUKUS magazine: "These guys aren't afraid to rock out. Gossard can really wail with his vocal at times and the band is full of energy. They move all over the stage, enjoying every minute of every song they play." PERFORMER magazine: "Straight from the get go, ACIDIC brings forth its frenetic energy and passionate sound in waves of indie alternative delight. This band brings the goods, with personality and flair unmatched in many West Coast bands."
ACIDIC's tour history includes Candlebox, Fuel, Alien Ant Farm, Hawthorne Heights, Filter, Marcy Playground, and Armed Forces Entertainment for US troops in Kosovo and Germany; plus the 2012 Winter NAMM Show at the Anaheim Convention Center, SXSW, Florida Music Festival, Sunset Strip Music Festival, and Bamboozle Left. ACIDIC's power rocker "Strata Red" won the Alternative category in the 18th Billboard WorldWide Song Contest.
ACIDIC consists of lead singer/guitarist Michael Gossard, drummer Matt Whitaker, guitarist Josh Bennett, and bassist Max Myrick.