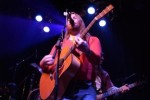 MR. BLOTTO
Mr. Blotto was born in Chicago as an off-night vehicle for musicians who loved each others playing but were in different bands at the time. The only rule was that they would only play what they loved. That philosophy continues today and has led Mr. Blotto into unique musical situations.

Mr. Blotto takes the Jam band asthetic into areas unfamiliar to the standard Jam Scene. They have been known to cover entire albums by Led Zeppelin and the Who as well as perform entire shows of Country and Reggae. Artists as diverse as the Grateful Dead, the Flaming Lips, Willie Nelson and The Velvet Underground have seen their material interpreted by Mr. Blotto in the 2000+ shows the band has performed in the last 15 years, yet covers only pepper the bands hefty catalog of original material stemming from five studio albums and other unreleased crowd favorites.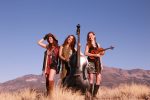 THE SWEET LILLIES
The Sweet Lillies' high-energy, melodic tunes have quickly captured the hearts of fans in Colorado and beyond. The band, formed in November of 2013, credits its appeal to the original and compelling songwriting of three women who share an unwavering commitment to life on the road. The magnetic combination of Julie Gussaroff on the upright bass, Becca Bisque on the viola, Melly Frances on percussion and lead vocals and Dustin Rohleder on acoustic guitar gives this band a rare and alluring sound. As testament to their appeal, The Sweet Lillies have already shared the stage with the likes of Peter Rowan, George Porter Jr., Steve Kimock, Vince Herman of Leftover Salmon, Kyle Hollingsworth and Jason Hann of The String Cheese Incident, Andy Hall of The Infamous String Dusters, Jeff Austin, and Bridget Law (founding member of Elephant Revival). Based out of Colorado's Front Range, The Sweet Lillies are continually expanding their audience and reach with a contagious love of music and a get-up-and-dance attitude that spreads lots of love and smiles.