FREE SHOW! FREE BEER!
The Official Reggies Unofficial Showcase
The Lodge, 411 E. 6th Street (in the heart of EVERYTHING!)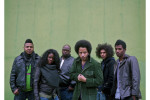 THE COUP
The Coup is a political hip hop group based in Oakland, California. It formed as a three-member group in 1990 with emcees Raymond "Boots" Riley and E-Roc along with DJ Pam the Funkstress. E-Roc left on amicable terms after the group's second album but appears on the track "Breathing Apparatus" on The Coup's third album, Steal This Album. With the release of that album in 1998, The Coup began incorporating the live instrumentation from their recordings into their live show. The Coup has, since that time, been a full band.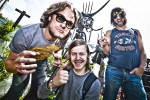 TRUCKFIGHTERS
Probably the best band in the world!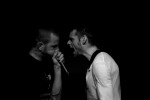 HEYMOONSHAKER
Heymoonshaker are the unlikely pairing of two art forms that are decades apart; Grit-your-teeth, raw, blues guitar and expansive, heart-pounding beatboxing. Urbanizing blues music now for nearly 2 years, Andy Balcon and Dave Crowe are extremely talented at their craft but what impresses most and has made their commitment to Beatbox Blues so successful is the indescribable chemistry these two have on stage. The musical sparring of Crowe's powerful beats versus Andy's possessed vocals forge together like two pieces of iron, creating an inspired piece of creativity and originality.
Meeting as street performers in New Zealand in 2009, Andy and Crowe began fusing their interests in the blues and electronic bass music in front of the passing crowds of the south island. After separating to take different travelling routes, the boys re-met back in the Northern hemisphere in Sweden where they began taking their jams to the stage. As their show developed and their touring routes became more extensive, so too did their sound mixing features from heavy rock & roll, roots music and dubstep. But their love and appreciation for the blues is something that stays true throughout their writing and the driving force behind their music. Taking huge inspiration from the likes of Led Zeppelin and Muddy Waters, Heymoonshaker's big riffs, loud rhythms and howling vocals have impressed in small intimate basement venues to festival main stages.
Last year Heymoonshaker were invited to support Ghostpoet, De La Soul and Baxter Dury at Marseille's Marsatac Festival, with Rolling Stone Magazine describing their performance as "Dazzling". This sparked major interest in the band in France and over the past 12 months Heymoonshaker have appeared at some major French venues such as Bataclan in Paris where they supported Walk Off The Earth, and Le Divan Du Monde where they sold out their headline show in May this year.
Not surprisingly, Heymoonshaker's unique and energetic take on the blues has also been snapped up by festivals around the world. This summer has seen them perform at Printemps de Bourges & Cognac Blues Festival (France), Festival d'Été (Canada), Fusion Festival (Germany), Paléo Festival (Switzerland), WOMAD & Glastonbury (UK), Sziget Festival (Hungary), plus countless others.
Still finding pleasure in hitting the streets with their custom made suitcase, fitted with car speakers and battery, and camera in hand, Heymoonshaker have amassed a huge YouTube following with their official YouTube channel at a staggering 20 million views and rising.
In March 2013 Heymoonshaker released their first EP 'Shakerism'. This extended 8 track EP contains songs from previous recordings and recent unreleased material, compiled to illustrate the journey of the band's ever growing sound. This autumn the band re-release the EP as 'Shakerism (Definitive Edition)' which includes the track Colly Drop from their recent gritty film-noire music video and a solo beatbox piece recorded late last year in a studio in France. The duo also head out on tour in Europe covering France, Switzerland, Germany, Czech Republic and UK.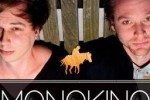 MONOKINO
Monokino has toured extensively across China, the Netherlands, Canada and the USA. Monokino weaves ear-piercing synthesizers, cleverly arranged guitars and pounding drums with a highly-exceptional voice to produce futuristic sounding, awe-inspiring pop. In the course of a minute, you may hear Soft Cell, New Order, Kraftwerk, Associates, Cabaret Voltaire and Freur. There's a good line in angry guitar too, nodding a bit to Hook & Albrecht.
Producer Tony Visconti mixed the acoustic version of Monokino's song "New Kid", sang by American singer/songwriter Kristeen Young (known for her work with David Bowie en Morrissey). Their brand new album "Fake Virtue" (Konkurrent, Modern Sky Asia) is produced by Dutch neo-psych/baroque pop artist Jacco Gardner, Press about the album:
"Fake Virtue is an album mixed in electric love and pop wonder. I was unsure about whether or not I was going to enjoy this album but I was proved wrong very, very early. The Amsterdam based band are quite the delight, a treat for your very ears and a lightening bolt to your senses. Fake Virtue got me excited about whats potentially out there in the world. You mean, not everything is shoegaze? (Dingus)
"These guys remind me of a band that escaped with their creativitynontraditional melodies and voice flirting with electronics and a noir-new wave feel" (Muziek.nl)
This trio puts down a very unique and idiosyncratic sound, primarily due to the voice of George van Wetering. We hear various influences, OMD, Placebo and even snatches of Joy Division. (LiveXS)
Ever since Monokino was signed by Modern Sky China in 2008, they have frequently toured China. Highlights of Monokino's shows abroad were performances at the World Expo in Shanghai (China, 2010), Strawberry Festival in Beijing (China, 2010). SXSW (United States, 2009), NXNE (Canada, 2011),Sled Island (Canada, 2012) and Guangzhou China Pop Festival 2008. Monokino just finished a successful tour through China with highlights including two shows at the Strawberry Festival in Beijing and Shanghai (with Travis and Deerhoof). The songs of Monokino's new album "Fake Virtue" were greatly received by many festival participants. They instantly became popular search terms on various Chinese download websites.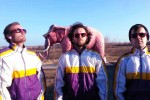 MUTTS
Mutts first played together with tape rolling on Pretty Pictures EP in July 2009. Bob Buckstaff pitched the idea of recording Mike Maimone's new material after they met as hired musicians for Company of Thieves. The pair instantly clicked over respect for honest, unrefined recordings and love of Tom Waits, Nirvana and Elliott Smith. They called mutual friends Jon Alvin and Chris Faller to engineer and play drums, respectively. Over a 3-day session in an old warehouse on the north side of Chicago, Mutts wrote, arranged and recorded their seminal release.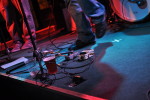 THE MAGNETIC REELS
Catchy blend of 60's rock, 70's punk and 90's alternative with harmonies and a driving back beat.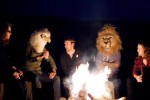 EMPIRES
"A big, multifaceted, tower-of-power sound" and "inspired by the independent spirit of 90s grunge, Empires' music takes the urgency and emotion of that era and reboots it for a new generation." – Rolling Stone
[Empires has] set about doing this right. It's a sentiment reinforced by these sterling alt-pop tracks boasting delicious symmetry of texture and tension. The 20 minutes Empires deliver on BANG makes a strong case that given the current music landscape, bands would be best off releasing EPs of their best songs while the material's still fresh… – Alternative Press
"Layer U2's early anthemics and The National's moody swing, ladle on copious amounts of Black Rebel Motorcycle Club's fuzz buzz and add dashes of Catherine Wheel and Modest Mouse. Cook under stage lights until they and you are completely done." – CityBeat
"All ethereal and doomy like the Black Rebel Motorcycle Club or the Black Angels, but with a little bit of My Chemical Romance snarl thrown in for good measure" – MTV
"Empires create "explosive Gaslight Anthem-grade stadium rockers." – AOL Spinner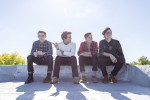 THE WILD FAMILY
After learning and playing music together for years as kids growing up in Genoa, IL, brothers Jake and Zach Schweitzer have tackled multiple instruments, different styles of playing, and managed to find extended-family members in Graham Young and Kevin Koreman who complete the group's effortless melodic folk DNA.
Zach, Jake and Graham began writing together in September of 2012 and The Wild Family was born from their soft, crooning melodies complimented by intense guitar parts and bold lyrics that deny their young age. With Jake on vocals and guitar, Graham with lead guitar and vocals, Zach with backing vocals and bass guitar, and recent addition, Kevin Koreman on drums, their lofty vocal harmonies intertwined with the heavy drive of an electrified rock set up, encourage a significant amount of movement and dancing to ensue.
After only a year together, their style and apparent talent continues to unfold as they perform heavily around the Chicagoland area. Recorded by Jonathan Alvin at Chrome Attic Studios, their debut self-titled EP will be released on February 4th, 2014.