Coming from out of town? Ride our bus shuttle from Chicago South Loop Hotel on the hour every hour to Reggies and back, starting at 11AM.  Reserve your room at Chicago South Loop Hotel conveniently located just blocks away. Click for a special room rate. 2pm Doors for Both Rooms (Saturday)

Saturday:
Music Joint-
2:30pm-3:15pm: Riddle House
3:45pm-4:30pm: Zip Tang
5pm-6pm: Mano
6:30pm-7:50pm: The Mercury Tree
8:20pm-9:40pm: JOLLY
10:10pm-11:40pm: Cheer Accident

Rock Club-
3pm-4:20pm: Thank You Scientist 
4:50pm-6:20pm: Presto Ballet
6:50pm-8:20pm: Dream the Electric Sleep
8:50pm-10:30pm: Bigelf
11pm-1am: Spock's Beard

2pm Doors for Both Rooms (Sunday)

Sunday:
Music Joint-
3:30pm-4:30pm: Pavlov
5pm-6pm: Sonus Umbra
6:30pm-7:40pm: Tiles
8:10pm-9:30pm: Adam Holzman
10pm-11:30pm: Burnt Belief

Rock Club-
2:30pm-3:30pm: Hedgehog and the Fox
4pm-5pm: Wertico, Cain & Gray
5:30pm-6:30pm: District 97
7pm-8:10pm: Scale the Summit
8:40pm-9:50pm: Trey Gunn/TU
10:20pm-12:20pm: Stick Men
Schedule for the VIP Meet and Greet ticket holders:
Saturday: Thank You Scientist-(2pm-2:20pm) The Mercury Tree-(5:30pm-5:50pm) Dream the Electric Sleep-(5:50pm-6:10pm) Presto Ballet-(7pm-7:20pm) JOLLY-(7:20pm-7:40pm) Cheer Accident-(8:30pm-8:50pm) Spock's Beard-(9pm-9:20pm) Bigelf-(10:45pm-11:05pm)
Sunday: Wertico, Cain & Gray-(3pm-3:20pm) Sonus Umbra-(4pm-4:20pm) District 97-(4:30pm-4:50pm) Tiles-(5:30pm-5:50pm) Scale the Summit-(6pm-6:20pm) Trey Gunn-(6:40pm-7pm) Adam Holzman-(7:10pm-7:30pm) Burnt Belief-(9pm-9:20pm) Stick Men-(9:20pm-9:40pm)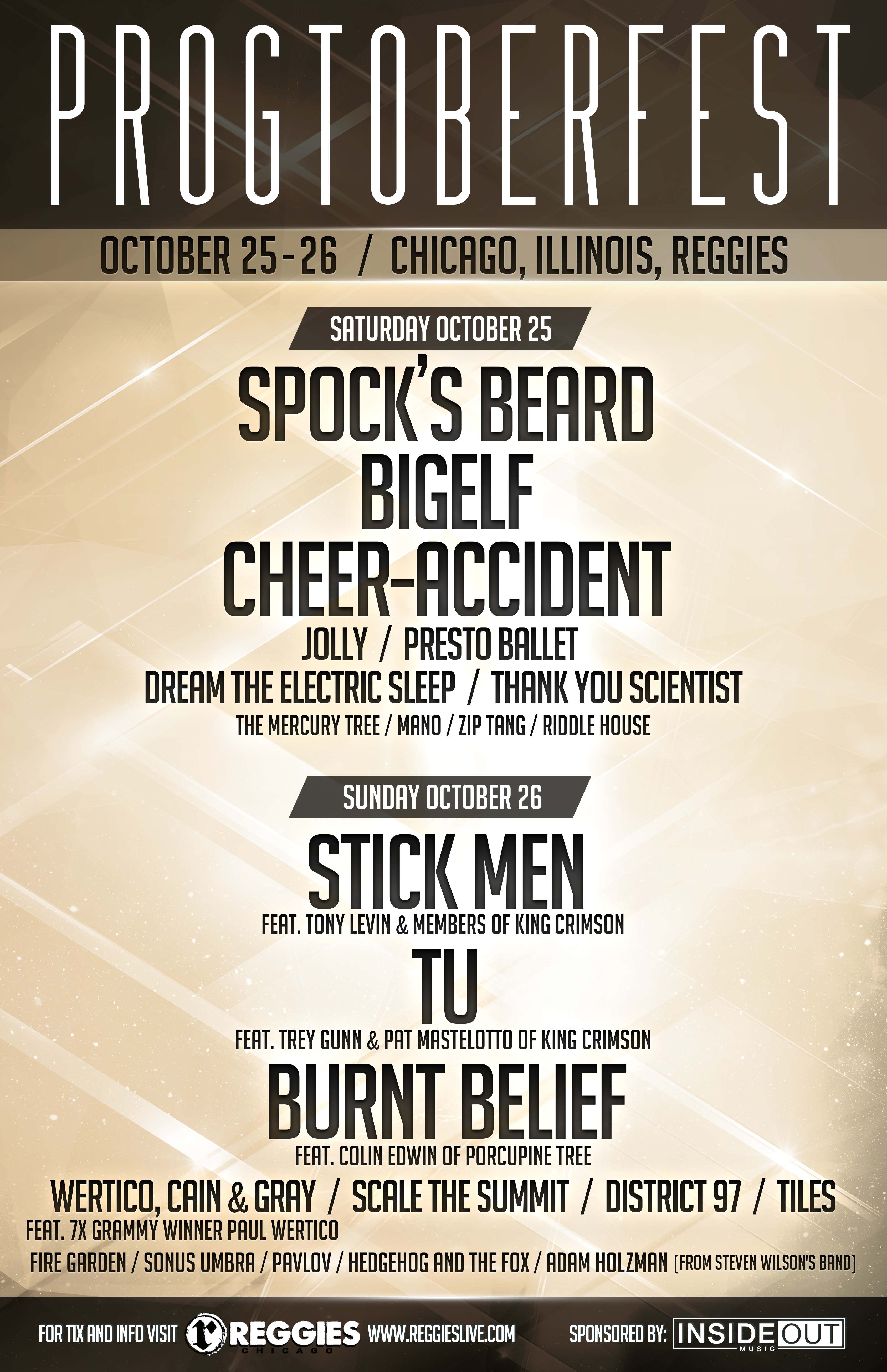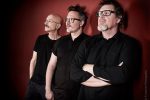 STICK MEN
STICK MEN – Tony Levin and Pat Mastelotto, the powerhouse bass and drums of the group King Crimson for a few decades, bring that tradition to all their playing. Levin plays the Chapman Stick, from which the band takes it's name. Having bass and guitar strings, the Chapman Stick functions at times like two instruments. Markus Reuter plays his self-designed touch style guitar – again covering much more ground than a guitar or a bass. And Mastelotto's drumming encompasses not just the acoustic kit, but a unique electronic setup too, allowing him to add loops, samples, percussion, and more. New studio album Prog Noir was released in October 2016, and the band is touring the USA and Canada in August/September 2017, and in 2018 will perform at the Cruise To The Edge 2018 and in Central America and The Caribbean (with special guest David Cross, ex-King Crimson),, and in Europe in March 2018.
TONY LEVIN
– Born in Boston, Tony Levin started out in classical music, playing bass in the Rochester Philharmonic. Then moving into jazz and rock, he has had a notable career, recording and touring with John Lennon, Pink Floyd, Yes, Alice Cooper, Gary Burton, Buddy Rich and many more. He has also released 5 solo CDs and three books. In addition to touring with Stick Men, he is currently a member of King Crimson and Peter Gabriel Band, and jazz bands Levin Brothers and L'Image. His popular website,
tonylevin.com
, featured one of the web's first blogs, and has over 4 million visits.
PAT MASTELOTTO – Very rarely does a drummer go on to forge the most successful career on the demise of their former hit band. Phil Collins and Dave Grohl have managed it, so too has Pat Mastelotto, a self taught drummer from Northern California, who has also been involved with pushing the envelope of electronic drumming. Pat has spent a lifetime jumping genres from pop, to prog, to electronica to world music with – among others – Mr. Mister, XTC, David Sylvian, The Rembrandts, Kimmo Pohjonen, and for the last 20 years with King Crimson.
MARKUS REUTER – Markus is a composer, guitarist, and producer. Initially trained as a pianist, he subsequently studied Robert Fripp's Guitar Craft and learned to play the Chapman Stick, later moving onto the U8 Touch Guitar. Reuter has released several solo recordings and worked extensively with other musicians. He is one of the core members of the experimental band Centrozoon, is half of the duo Tuner (with Pat Mastelotto) and was also a member of Europa String Choir. Reuter has collaborated with Ian Boddy, Robert Rich, No-Man singer Tim Bowness, and many others.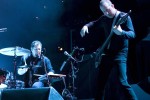 TU (TREY GUNN & PAT MASTELOTTO)
TU – (Trey Gunn & Pat Mastelotto) Crazy, sick, heavy, electronic, loud and raw tunes and improvisations from King Crimson rhythm section.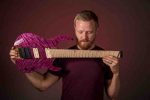 SCALE THE SUMMIT
At this point in their career, it's almost easier to list the prog acts SCALE
THE SUMMIT haven't toured with than the ones they have. From legends like Dream Theater and Yes, to cult heroes such as Cynic and Devin Townsend, to modern trailblazers such as Periphery and BTBAM, to heavy experimentalists like Intronaut and Mastodon, the band has shared stages with a who's who of the genre's past, present and future.
This mix of classic and contemporary, timeless and topical is also reflected in the instrumentalists' evocative sound, which is just as vital in today's post-
post- / anything-goes world of shuffled playlists as it would have been on the freeform rock radio playlists of the 1970s. The group's fifth album, "V," sees the group further develop their colorful musical palettes thanks to the addition of new drummer JC and the work of returning mixer Jamie King (BTBAM, The Contortionist), who also collaborated with the band on 2013's Billboard-charting "The Migration."Described as "essential prog" by Guitar World, SCALE THE SUMMIT was formed in 2004 after guitarists Chris and Travis met while attending Hollywood's Musicians Institute. The group self-released their first album, 2007's "Monument," before signing with Prosthetic for the 2009 release of their sophomore effort "Carving Desert Canyons." That album earned acclaim from fans, critics and peers alike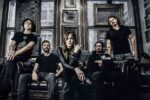 DISTRICT 97
DISTRICT 97 is undoubtedly the most musically-adventurous rock band in the world to feature an American Idol Top 10 Female Finalist. Since 2008, this quintet from Chicago has melded an adventurous, uncompromising instrumental prowess with the look, sound, and stage presence of vocalist Leslie Hunt. Through world tours and a stream of studio and live releases, the band has garnered a worldwide fanbase; collaborating with iconic singer/bassist John Wetton (King Crimson, Asia, UK) and drawing praise from Bill Bruford (drummer of Yes/King Crimson/Genesis), Mike Portnoy (drummer of Dream Theater/Transatlantic) and other rock luminaries along the way. Their new album Screens and its accompanying live show are their most ambitious efforts to date.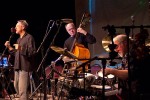 WERTICO CAIN AND GRAY
(featuring 7-Time Grammy Award Winner Paul Wertico )
Wertico Cain & Gray is a seamless, genre-expanding marriage of sound and vision performed with a quality never before experienced. Paul Wertico, David Cain, and Larry Gray take musical artistry to unchartered waters with explosive, creative improvising that is truly on the cutting edge … and beyond. A passionate, trailblazing, mind-blowing performance, setting a new direction in music!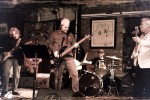 HEDGEHOG AND THE FOX
Chicago Chamber Rock Trio
$90 Two Day Pass
includes general admission Saturday and Sunday.
$80 Single Day VIP
includes admission for One Day plus BBQ buffet, Poster, and Meet and Greet with bands
$140 Two day VIP
includes admission plus BBQ buffet, Poster, and Meet and Greet with bands (Schedule of Meet and Greets in Record Breakers TBA)

$180 Two Day Seated VIP
includes admission plus BBQ buffet, Poster, and Meet and Greet with bands (Schedule of Meet and Greets in Record Breakers TBA), plus reserved Seating in Rock Club. Seating in Music Joint not reserved.
$25 SUN VENUE ONLY
includes admission to Rock Club only after 8PM on Sunday. $30 day of show.