1245-130pm THE GABRIEL CONSTRUCT
2-245pm AD ASTRA
315-4pm FARMHOUSE ODYSSEY
430-530pm VALDEZ
6-7pm CYBERIAM
730-830pm BUBBLEMATH
9-10pm SOFTEN THE GLARE
1030pm-1150pm PAUL WERTICO & FRIENDS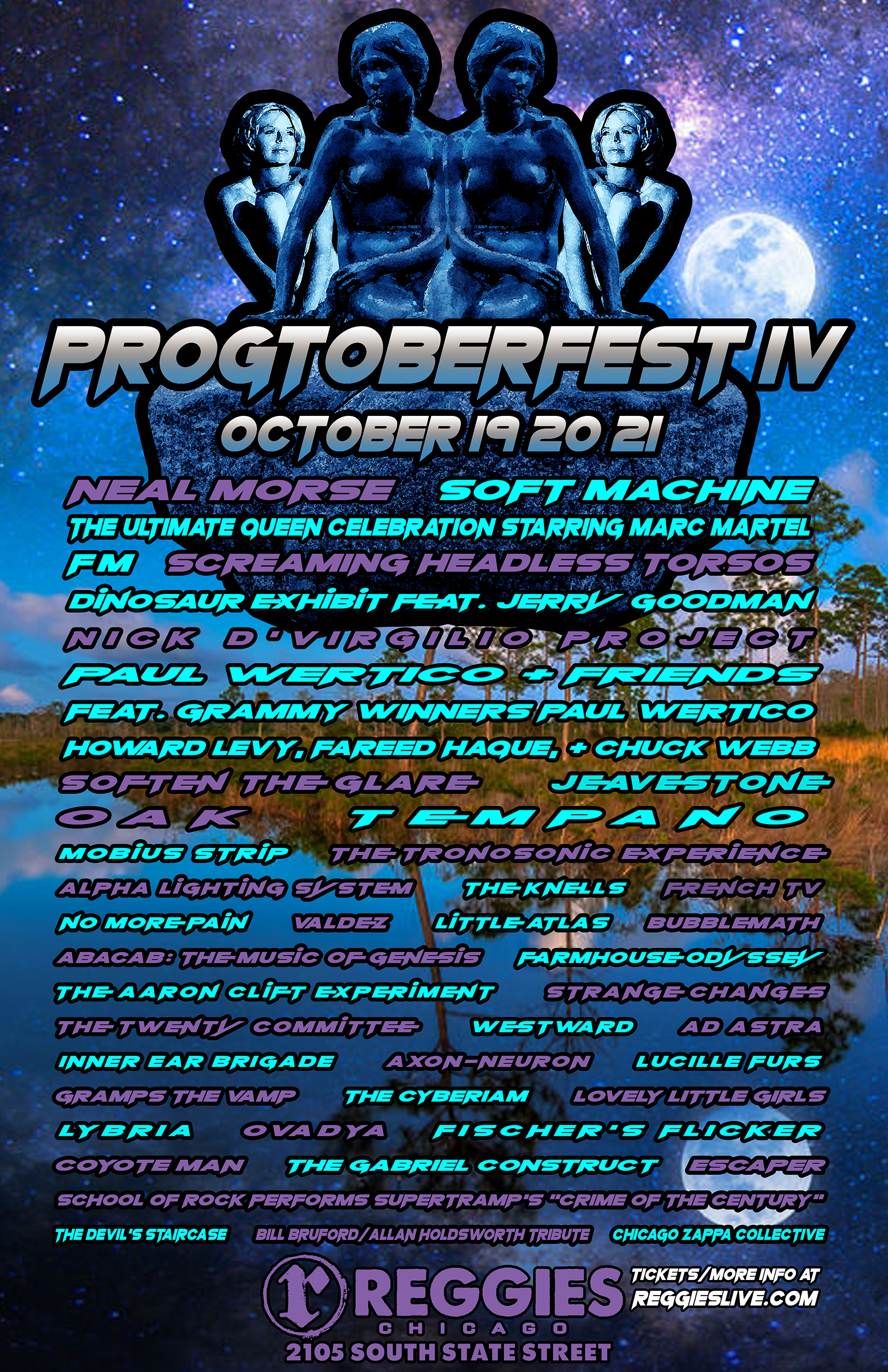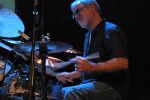 PAUL WERTICO & FRIENDS
(featuring 7-Time Grammy Award Winner Paul Wertico )
Paul Wertico & Friends feat. Grammy winners Paul Wertico, Howard Levy, Fareed Haque and Chuck Webb
Paul Wertico: Hailed in the press as "One of the most versatile and musical drummers in music today," Paul Wertico was a member of the Pat Metheny Group from 1983 to 2001. During that time, he won seven Grammy Awards and he also played drums & percussion on David Bowie's hit recording, "This Is Not America." He has played with countless artists in all 50 states and in 70 countries, as well as playing on drums and percussion on hundreds of recordings. For two years, Wertico also hosted his own weekly radio show, Paul Wertico's Wild World of Jazz, and as Musical Director for the crowdsourced TV video series, Inventing The Future, he was nominated for a 2012-2013 Emmy Award.
In addition to teaching drums privately for over 45 years, Wertico is an Associate Professor of Jazz Studies at Roosevelt University's Chicago College of Performing Arts, and his new drum instructional book, Turn The Beat Around (A Drummer's Guide to Playing "Backbeats" on 1 & 3), was published by last year by Alfred Music. His DVD, Paul Wertico's Drum Philosophy, was named "One of the best drum videos of the last 25 years" by Modern Drummer magazine. He is also the inventor of his signature product, TUBZ, made by Pro-Mark, who also makes the "Paul Wertico Signature Drum Stick."
Wertico was a Chicago Tribune 2004 "Chicagoan of the Year," and in 2010, he was awarded two Lifetime Achievement Awards, one from the Cape Breton International Drum Festival, and the other from the Montréal Drum Fest. His band, Wertico Cain & Gray, also won "Best Live Performance Album" in the 13th Annual Independent Music Awards, as well as being nominated for "Best Live Performance Album" and "Best Long Form Video" in the 15th Annual Independent Music Awards.
In the international press, Paul's drumming has also been compared to that of an "Impressionist painter," and he has also been called "an inspired madman," "a restless innovator," "a true legend of jazz drums," "a master of drumming insanity," "a genius of the sticks," and a recent review stated, "Wertico simply oozes musicality."
Paul's official website is: www.paulwertico.com
Howard Levy: is an acknowledged master of the diatonic harmonica, a superb pianist, innovative composer, recording artist, bandleader, teacher, and producer. In 1970 at the age of 19, he discovered how to play the diatonic harmonica as a fully chromatic instrument. This opened new possibilities for an instrument that had been limited to playing Folk and Blues.
Equally at home in Jazz, Classical, Rock, Folk, Latin, and World Music, the two- time Grammy Award Winner is a favorite with audiences worldwide and a recording artist sought after by Kenny Loggins, Dolly Parton, Paquito D'Rivera, Styx, Donald Fagen, Paul Simon, and many others. Howard has appeared on hundreds of CD's and several movie soundtracks, most prominently on A Family Thing with Robert Duval and James Earl Jones.
His solo CD Alone and Together (Balkan Samba Records) and his trio CD Tonight and Tomorrow (Chicago Sessions) both received 4-star reviews in DownBeat. In 2011 Howard released a classical CD featuring his Concerto for Diatonic Harmonica and Orchestra– the first true concerto composed for diatonic harmonica. Rocket Science, a reunion CD with Bela Fleck and The Flecktones, won Howard his second Grammy Award for co- writing "Life in Eleven". In 2016 he released Tango and Jazz, featuring performances of Piazzolla tangos and original jazz compositions.
This year, Howard re-released his 1987 album Harmonica Jazz, the first recording he made under his own name. Howard and Chris Siebold's duo CD is also coming out in 2018.
Another new recording is Peaks of Light, adventurous original music with Slovenian jazz guitarist Samo Salamon. Information about these CD's and more can be found at www.levyland.com and www.facebook.com/HowardLevyFanPage/. And www.howardharmonica.com is Howard's online harmonica school, where he shares everything he knows about the instrument and music.
Howard has been touring as a solo artist and with The Flecktones, Trio Globo, Chris Siebold, Corky Siegel, and others.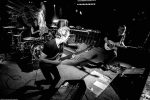 SOFTEN THE GLARE
Soften the Glare is what happens when different worlds collide. Ryan Martinie (Mudvayne), Bon Lozaga (Gongzilla, Tiny Boxes) & Mitch Hull unleash an amalgamation of captivating sounds. When Lozaga, Hull & Martinie first met in LA and started talking about getting together to create some music, they didn't know what to expect. Now, as Soften The Glare, their music is constantly evolving, bringing in elements from all of their worlds. Currently their music is headed in a jazz/rock fusion direction with elements of metal, funk, prog and chaos.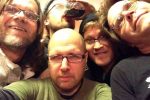 BUBBLEMATH
Bubblemath. Kings of delight.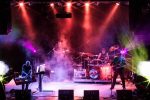 THE CYBERIAM
The Cyberiam is a new progressive rock / metal band from Chicago that boasts some of the top musicians in the city coming together to create history with Keith Semple on guitar and Vocals, Brian Kovacs on Bass Guitar and vocals, Tommy Murray on drums and percussion and Frank Lucas on keyboards.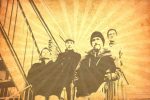 VALDEZ
Valdez is a four piece art-rock band from Philadelphia, USA comprising of singer/guitarist Simon Godfrey, bassist Tom Hyatt, keyboard player Joe Cardillo and drummer Scott Miller. The band released their debut album entitled 'This' in the spring of April 2017 and plan to return to the studio to record their follow up record in early 2018.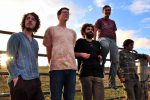 FARMHOUSE ODYSSEY
Farmhouse Odyssey was formed by five college students in a small farmhouse in the fall of 2012 in Arcata, California. Embracing an improvisational writing style and inspired by the natural beauty of the Pacific Northwest, the band quickly developed an organic and undeniably original sound. Songs flow freely between moods and styles influenced by progressive rock, psychedelia, jazz, funk, and world music, while always retaining the distinct musical personality of the group.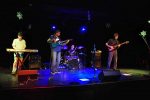 AD ASTRA
New York based guitarist Joe Nardulli's self-titled debut CD inspired and intrigued a bunch of local progressive rock musos. After jamming with a few, Joe finally found the right people and put a band together. David Penna on drums, J. Levine on bass and Eric Davis on keys brought Joe's solo material to life.  Harold Skeete and Tony Savasta are now filling the rhythm section duties.  Now as a band, AD ASTRA(Latin for "To the stars" – inspired by the title of the closing track of Joe's self-titled debut CD) has taken the compositional process to another level and have completed a full band recording!  With tone and melodic sensibilities reminiscent of Steve Morse and Eric Johnson, the focus is on compositions that are tightly structured, eschewing the bombast and length that progressive rock is known for. Smooth, thematic playing styles blend perfectly with soaring, uplifting melodies. Combined with odd and shifting time signatures, you have songs that always keep your interest and never sound monotonous.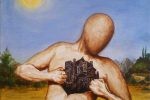 THE GABRIEL CONSTRUCT
The Gabriel Construct is the rock solo project of Gabriel Lucas Riccio, a vocalist, composer and performer from Salisbury, MD. His debut album, 'Interior City', is a dark and atmospheric concept album featuring Travis Orbin (Darkest Hour, ex-Periphery, Of Legends) on drums, Thomas Murphy (ex-Periphery) on bass, David Stivelman (ex-Debbie Does Dallas) on guitar, Soren Larson on saxophone, and frequent collaborator Sophia Uddin on violin. The album unites players from rock, metal, classical, and jazz backgrounds to create a sound which incorporates influences from a wide variety of genres, including progressive rock, 20th century classical music, extreme metal, drum-n-bass, jazz, '90s grunge and space rock, '80s pop and more. The album's densely layered vocal harmonies, distorted pianos, dissonant chords, and complex rhythms envelop the listener in a hallucinatory wall of sound.
VIP Tickets
1-Day VIP: $100 Includes admission for One Day plus Meet & Greets, BBQ buffet, Poster
VIP Tickets
3-Day VIP: $210 Includes admission for 3 Days plus Meet & Greets, BBQ buffet, Poster
VIP Tickets
3-Day Seated VIP: $310 Includes admission for 3 Days plus Meet & Greets, BBQ buffet, Poster. Plus reserved Seating in Rock Club. Seating in Music Joint not reserved.