Noon-1245pm FISCHER'S FLICKER
115-2pm THE DEVIL'S  STAIRCASE
230-315pm LITTLE ATLAS
345-430pm GRAMPS THE VAMP
5-630pm THE CHICAGO ZAPPA COLLECTIVE
7-8pm MOBIUS STRIP
830-930pm TRIBUTE TO BRUFORD/HOLDSWORTH
10-1130pm SOFT MACHINE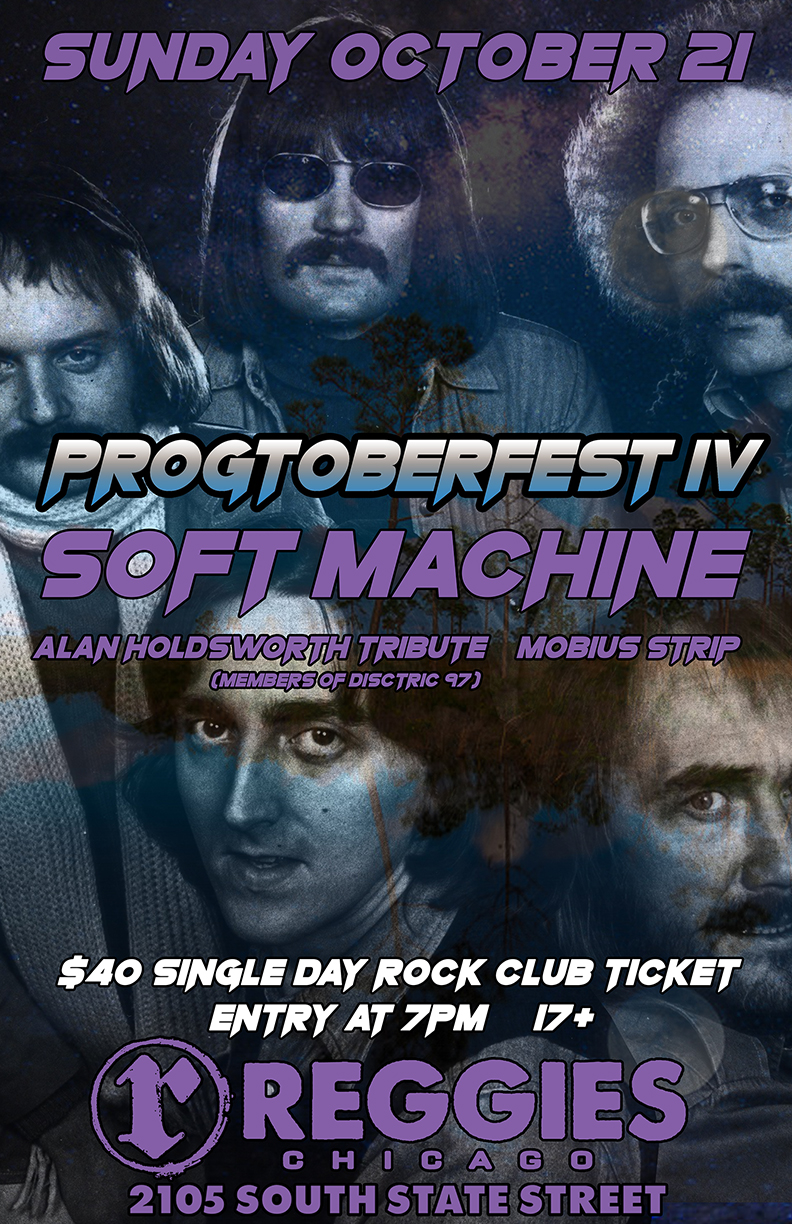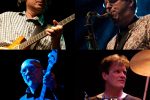 SOFT MACHINE
(50th Anniversary Show)
Soft Machine were an English rock band from Canterbury, named after the book The Soft Machine by William S. Burroughs. They were one of the central bands in the Canterbury scene, and helped pioneer the progressive rock genre. Soft Machine (billed as The Soft Machine up to 1969) were formed in mid-1966 by Robert Wyatt (drums, vocals), Kevin Ayers (bass, guitar, vocals), Daevid Allen (guitar) and Mike Ratledge (organ) plus, for the first few gigs only, American guitarist Larry Nowlin. Allen, Wyatt and future bassist Hugh Hopper had first played together in the Daevid Allen Trio in 1963, occasionally accompanied by Ratledge. Wyatt, Ayers and Hopper had been founding members of the Wilde Flowers, later incarnations of which would include future members of another Canterbury band, Caravan.

In 2002, four former Soft Machine members – Hugh Hopper, Elton Dean, John Marshall and Allan Holdsworth – toured and recorded under the name Soft Works (initially called Soft Ware, debuting at the 2002 Progman Cometh Festival).
From late 2004 onwards, with John Etheridge replacing Holdsworth, they toured and recorded as Soft Machine Legacy. They released three albums: Live in Zaandam (2005), the studio album Soft Machine Legacy (2006) and Live at the New Morning (2006). Although Elton Dean died in February 2006, the band has continued with British saxophonist and flautist Theo Travis (formerly of Gong and The Tangent).
In December 2006, the new line-up recorded the album Steam in Jon Hiseman's studio, released by Moonjune Records in August 2007 before a European tour in autumn. In 2008 Hopper was sidelined by leukemia and the band continued live performances with Fred Baker. Following Hopper's death in 2009, the band announced that it would continue with Babbington once again stepping into the role formerly held by Hopper.
Members of District 97 Present a Tribute to Bill Bruford/Allan Holdsworth
Some of the very first music 2016 Modern Drummer Reader's Poll Top 5 Progressive Rock Drummer Jonathan Schang (of Chicago's District 97) ever heard was the 1979 Bruford album "One of a Kind." His father played it repeatedly in his youth, and the album's blend of crisp drumming, dexterous bass, lush keyboard soundscapes, and sinewy guitar lines immediately intrigued Jonathan. Having very little point of reference though, he assumed this was just how instruments were played! After maturing and hearing more music, Jonathan came back to this album and realized it was truly "One of a Kind" indeed.
When District 97 bassist TIm Seisser took on organizing an Allan Holdsworth Tribute on the first anniversary of his passing this year, he asked Jonathan and Andrew Lawrence (D97 keyboardist) to participate. Among other songs, the group took on Five G from "One of a Kind." Having had so much fun with that, the idea was born to play the whole album at Progtoberfest 2018. Come see this special (fittingly) one-ttme only performance! Also featured will be Cleveland-area guitarist Jeremey Poparad.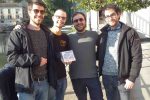 MOBIUS STRIP
Möbius Strip is an instrumental band formed in Sora (Italy) in 2014 and made of: Lorenzo Cellupica (25) on keyboards, Nico Fabrizi (27) on sax and flute, Eros Capoccitti (24) on bass and Davide Rufo (26) on drums. Möbius Strip was born with the intention of exploring and mixing different musical styles, in particular the sound and the improvisations of jazz with the structures of prog, without disregarding the insertion of strong melodies and searching for its own identity anyway.
THE CHICAGO ZAPPA COLLECTIVE
(performs Frank Zappa's One Size Fits All )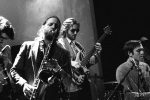 GRAMPS THE VAMP
Arising from a sweat-drenched Halloween house party debut in 2011, Gramps The Vamp has become equally known for it's "tight-as-a-rope funk" [My Spilt Milk] as for its dedication to break the funk mold and carve out its own genre. In 2014, a year after being named Best New Band by Chicago Reader on the merits of its demos and live shows, Gramps The Vamp released its self titled debut LP produced Sergio Rios (Orgone, Killion Sound). The album's vintage-noir style, which the band half-jokingly calls "Doom Funk," drew the interest of filmmaker Alaric S. Rocha, who used over half of the songs as the soundtrack for his 70s inspired horror film "Demonoid (1971)". In 2016 the band released its sophomore effort, "The Cave of 10,000 Eyes", which brings together afrobeat, deep funk, ethiopian-jazz, and spooky soul for a further exploration into the dark, wild, and strange side of the funk.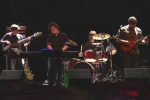 LITTLE ATLAS
Little Atlas has really carved out its own unique sound amid the current progressive rock landscape, creating compositions that range from haunting and dark, to frolicking and frenetic. Little Atlas is a work in progress – an ever-changing sound reflecting the mood and will of its creators. Their music has been described as "Music for Musicians" (Miami Herald) and as "Esoteric, yet familiar, complex yet catchy, a thoroughly unique sound and approach to song crafting" (Florida Jam Magazine)."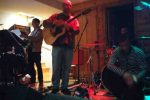 THE DEVIL'S STAIRCASE
Want to hear what Fractal Geometry, Chaos and Non-linear physics sound like when the mathematics becomes music? Climb the Devil's Staircase…Made up of Ramsés Luna (Saxophone, Midi Wind, Electronics)
Tim McCaskey (Electric and Acoustic Guitars)
Luis Nasser (Bass, Pedals, Holophonics)
Mattias Olsson (Drums, Percussion, Loops)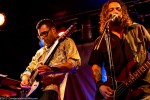 FISCHER'S FLICKER
Fischer's Flicker is the musical brainchild of songwriter, musician and native Chicagoan, Scott Fischer. Fischer has been writing and performing music since his teenage years, and not just any music- inside Fischer's brain lurks a colorfully symphonic amusement park. Attractions include full albums filled with satirical and humorous lyrics, rock operas, rich musical tapestries and metaphorical trips down the memory lane of a mad scientist composer. A thrilling ride as both spectator and participant, Fischer's Flicker's music inspires with big melodies and ambitious composition, taking you on a wildly impassioned journey. With seven studio albums under his belt, hundreds of live shows and a stretch of corporate cover band gigs which included a five-week Virgin Islands residency, a few large profile shows at "Summerfest" and the "Vince Lombardi Awards", Fischer never stops pushing boundaries with his ambition and talent. Additionally, Fischer delivered a stellar performance in "The Rod Stewart Experience" with Carmine Appice and an all-star cast of other Stewart alumni, as well as maintaining a recurrent part of the roundtable on "The official Frank Zappa podcast: Zappacast".
VIP Tickets
1-Day VIP: $100 Includes admission for One Day plus Meet & Greets, BBQ buffet, Poster
VIP Tickets
3-Day VIP: $210 Includes admission for 3 Days plus Meet & Greets, BBQ buffet, Poster
VIP Tickets
3-Day Seated VIP: $310 Includes admission for 3 Days plus Meet & Greets, BBQ buffet, Poster. Plus reserved Seating in Rock Club. Seating in Music Joint not reserved.