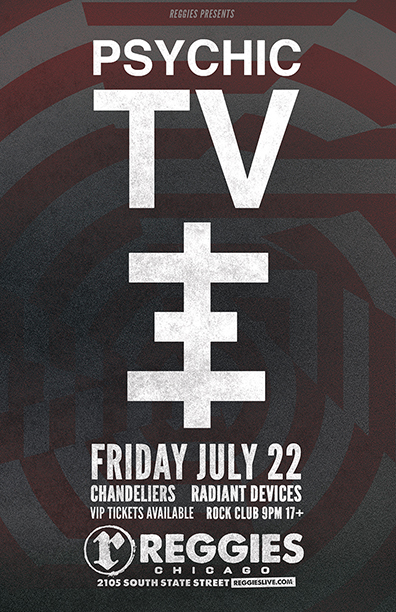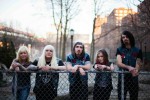 PSYCHIC TV
Fronted by performance artist, Genesis Breyer P-Orridge, Psychic TV (born out of Industrial Music pioneers, Throbbing Gristle) made highly innovative and provocative music from the early 80's to mid-90's, blending elements of psychedelia and dance with Industrial sounds (known as "hyperdelic"). In 2003, drummer Edley ODowd of the legendary NYC rock band Toilet Boys persuaded Genesis to rekindle her rock spirit and Psychic TV, which became known as "PTV3".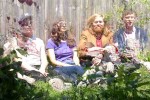 CHANDELIERS
Putting a danceable twist on art rock, Krautrock, and avant-garde influences, Chandeliers' kaleidoscopic electronic jams are artful yet accessible. Together the quartet of Chris Kalis, Harry Brenner, Scott McGaughey, and Lisa Armstrong have played with adventurous indie rock bands like Icy Demons, Killer Whales, and Michael Columbia and began making electronic music in 2004 as an escape from Chicago's chilly winters, debuting live early the following year at University of Chicago. Their first recording, the Circulation EP, arrived two years later and the albums The Thrush, Dirty Moves, and Roulé (a split with like-minded Chicagoans Mahjongg) revealed more layers of Chandeliers' entrancing energy. In 2011, Cinema 16 commissioned the group to perform original live scores to Wallace Berman's "Aleph"; and Elmen Etting's 1933 nature/dance film "Oramunde". The grooves continued on the 2012 album Founding Fathers, deemed "one of the most exciting records to come out of the Chicago underground in a long time" by the Chicago Tribune. Chandeliers have performed at the WIRE Adventures in Modern Music Festival and Tomorrow Never Knows Festival. The group's music has received praise from Pitchfork, The Fader, MTVHive, AdHoc, Chicago Tribune, WBEZ, Vocalo, AllMusic, CHIRP, WNUR, WFMU, KCRW, The WIRE, and many others. They have performed the music of Terry Riley, Moondog, Steve Reich, and the Residents. Chandeliers are preparing a number of singles, a full length LP, and a score to the feature film "Orders" for release in 2016.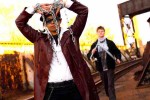 RADIANT DEVICES
»radiant devices« draw upon a wide range of genres and sources with an emphasis on art rock, downtempo electronic, and industrial / found instruments aesthetics. Distressed guitar riffs are layered on top of groove-heavy bass lines and downtempo synths, then punctured by textured electronic beats and metal percussion rhythms. The compositions are often built on contrasts of harsh, noise driven sections paired with mellow melodic passages; where as, minimal arrangements are contrasted with dense rhythms and undeniable punk energy.
$45 Red Chair
includes reserved plush red chair seat in balcony above bar across from stage.

$30 Above Stage
includes access to balcony directly above stage.