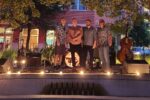 RORY BOOK & THE VOLUMES
"I remember sitting at the intersection of 150 & 130 on a Midwestern winter night. Not much to look at but barren, frosted-over fields as far as the eye cared to look. The heater never really worked and the only thing that seemed to keep me and my dad warm was the radiant orange glow emitting from the radio display of an 88′ Toyota Tercel (hatchback). The dial mechanically and faithfully set to an independent local station (the WHIP); playing songs I thought for certain only me, my dad, and the man in the radio had ever heard. It's there that my burning appetite for music began, and where I'm always driving back to."
Rory Book
Not far from that intersection I have been fortunate enough to find some of the finest musicians around – Chad Honeycutt & Paul Frieh. Although we have enlisted the services of some other incredibly talented musicians on record, we are historically a three piece. We are Rory Book & the Volumes and we hope you enjoy the western, blues, jazz, and rock n' roll sounds you hear all mangled up into something starkly unique.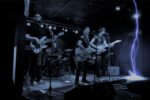 CODY LEE'S LAST DETAIL
Sometime during the summer of 2021, through the vision of Monsieur Brendan Cawley, the band know as Cody Lee's Last Detail, came together in the glorious city of Chicago. Featuring the talents of aforementioned Brendan on Fender Bass, Caleb Ramos revealing the mysteries of the guitar, Larry, "ain't no beat, I can't beat" Beers on the drums, and songwriter Cody Lee on guitar & lead vocals. It was a match made in heaven. Bringing together the disparate influences of the last 60 years of music, a true ability to listen to each other when they play, and a behind human desire to bring forth Cody's songs(as well as, young Messrs. Cawley & Ramos), this is the the band the Illinois Music Monthly just wrote "The Chicago band to watch in 2021/2022. Please check Instagram & The Book Of Face for the band's live schedule.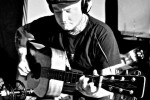 MIKEY CLASSIC & HIS LONESOME SPUR
Singer/Songwriter for The Goddamn Gallows solo Project, Stripped down Roots Punk
"Genre: AM Gold"
Super Hits — later retitled AM Gold — was a 35-volume series issued by Time-Life during the 1990s, spotlighting popular music — primarily, soft rock and non-disco Top 40 music—played on Top 40 radio stations during the 1960s and 1970s.