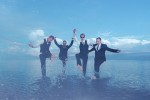 BALLYHOO!
A rock band with punk energy and pop reggae grooves, Baltimore's BALLYHOO! are a fun, fan-loving powerhouse. These road dogs have tirelessly toured coast-to-coast taking their music to the people. Between the road and the studio, BALLYHOO! have crafted a sound distinctly their own; fresh, fun, and embodied by the soul of the party lifestyle. Lead singer and guitarist, Howi Spangler, has a reputation for mixing slick lyrics with his smooth but powerful voice. Drummer Donald "Big D" Spangler lays out the hard-hitting beats, which are underlined by JR Gregory's funky and witty bass lines. Scott Vandrey (aka DJ Blaze) rounds it out on the turntables and keys.
BALLYHOO!'s unique sound, hardcore devotion to the road and their fans has pitched them into snowballing success. The band has performed with a myriad of national touring acts; 311, Slightly Stoopid, SOJA, The Dirty Heads, Matisyahu, and more. In 2011, after concluding the Last Calls and Liabilities tour with respected contemporaries, Pepper, they were honored with being included on the ever-popular Hollister Holiday Playlist. They were listed on MTV's Top 100 Bands to Watch and even featured 2 downloadable songs on the popular video game ROCK BAND. Tour highlights include the 2011 311 Pow Wow Festival, the 2012 311 Caribbean Cruise, Bamboozle 2012, & the entire 2012 Vans Warped Tour.
The band's last single "Last Night" saw rotation at various alternative radio stations including WHFS Baltimore, WRFF Philadelphia, KUKQ Phoenix, Star 101.9 Honolulu, & SiriusXM/Faction, as well as various specialty shows around the country. The band's new single "Walk Away" is next and poised to open even more doors at radio with it's melodic chorus and sing along vibe. Yesod Williams, owner of the band's label LAW Records says of his newest addition, "Having BALLYHOO! join the LAW family is a perfect fit. They are an incredibly talented band with a really catchy style".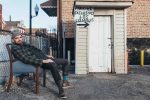 MATHIEN
About Mathien—the nucleus of the band was formed at Southern Illinois University Carbondale around the magnetic personality of singer/songwriter/guitarist Chris Mathien. Bassist Mike Schiff and drummer Aaron Bouslog were initially drawn to Mathien's sharply observed lyrics and eclectic musical influences. After signing with Midwest Music Group, relocating to Chicago and releasing their debut "Hello Again" the band took to the road and became a formidable live act selling out venues in Chicago and throughout the Midwest.