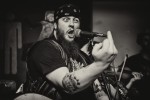 BOB WAYNE
After a long hard run, down the roads across this land. Bob Wayne gathered up some outlaws, and they formed themselves a band. Now every day is different, every player every show. Will you see a bearded lady? Unless you go, you'll never know. So come one, yeah, come all. When this ho down comes around. Who know's, you could be an outlaw too! Lettin out that carnie sound.
KENT ROSE WITH KEN CHAMPION
THE LAWRENCE PETERS OUTFIT
Lawrence Peters is a singer, songwriter, drummer and America's preeminent electric washboard player, with a musical career spanning twenty-plus years. He was a key player in the Lawrence, Kansas music scene before moving to Chicago in 1992. Since then, he has recorded or performed with dozens of bands, including The Lawrence Peters Outfit, Magnolia Electric Company, Plastic Crimewave Sound, Velcro Lewis Group, The Golden Horse Ranch Band, Eiren Caffall, Mar Caribe, and Tijuana Hercules. Lawrence's main musical passion is deep-rooted American country music, but he also plays acid punk, swamp rock, Shaker-modern, and Western-pirate-surf music, and somehow gets away with it. In his spare time he volunteers for CHIRP Radio.