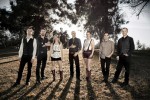 OLD MAN MARKLEY
Old Man Markley are not your run-of-the-mill band. They're not a traditional bluegrass band, nor a typical punk band. Instead, the band meld elements of both genres into a musical style that has resulted in a boot-stomping good time for fans around the world.
The seven piece – rounded out by Johnny Carey (vocals, guitar), Annie DeTemple (autoharp, vocals), Joey Garibaldi (bass, vocals), Jeff Fuller (drums), Ryan Markley (washboard), John Rosen (banjo) and Katie Weed (fiddle) – roared onto the scene in 2010. Their unique blend of punk rock sensibilities, ear for pop melodies, and deeply rooted love for bluegrass caught the ear of Fat Wreck Chords, who released OMM's debut album Guts n' Teeth in 2011.
Word quickly spread of the their incredible live shows, and over the next few years the band found themselves shredding strings on stage with the likes of Flogging Molly, The Reverend Horton Heat, and NOFX. Old Man Markley were quickly embraced by the punk rock community for their incendiary performances. At the same time, bluegrass fans warmly welcomed the band, earning OMM a #8 debut on the Billboard Bluegrass chart for Guts n' Teeth. From rivets to rhinestones, even the world of glossy country music embraced OMM, yielding them a slot at California's country festival mecca, Stagecoach.
After two years of relentless touring and winning over thousands of fans, Old Man Markley returned to the little house in Southern California where it all began to record their follow-up album, Down Side Up. With Fat Wreck Chords owner and NOFX frontman Fat Mike in the producer's chair alongside singer/guitarist Johnny Carey, Old Man Markley plucked, bowed, and strummed their way through thirteen galloping new songs.
"With the support of Fat Mike, we went out on a limb with this album," says Carey. "We didn't restrict our creativity and can't wait for the world to hear the variety on our album."
It paid off. Down Side Up debuted at #1 on the Billboard Bluegrass chart. OMM followed the release with multiple tours across the United States, and international tours through Canada, across Europe, and in Japan, to play songs for old friends and new fans. A more cohesive unit than ever, Old Man Markley overflows with passion for their craft and for each other. Just have a listen for yourself.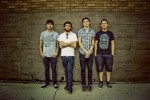 THE FLATLINERS
The Flatliners play punk rock/reggae that makes you want to dance and punch. Hailing from Toronto, The Flatliners have shared the stage with such bands as Bad Religion, The Suicide Machines, Anti-Flag, Against All Authority, Catch 22, BigWig, Death By Stereo, Voodoo Glow Skulls, None More Black, Big D and the Kids Table, Planet Smashers and more…They will most likely kill you, but doing so will have never sounded so sweet.