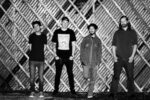 ERASERHEAD
A few years ago, four boys with different haircuts and methods of self-expression but similar musical tastes and general outlooks on life found that placing their preferred instruments side by side and producing a big noise was more exciting and interesting than anything else they had thus far done with themselves, and the result was a new band called Eraserhead. In a large, unfinished basement in Aurora, Illinois Eraserhead set to work on developing their sound. What they came up with is hard to pin down, as cacophonous punk rock coalesced with the lilting melodies and harmonies of folk and pop, and blues walked on arm in arm with metal while grunge looked on smiling. After writing many songs and rehearsing them at a higher volume than was likely necessary, Alex Rosales (drums), Eric Renner (bass), Eddy Bartolotta (guitar), and Ben Rosales (vocals/guitar) decided it was time to engage in public performances where they throw themselves headlong and soul-first into their music in paroxyms of exuberant exposition. At the end of 2016 they released their long-awaited first EP ERASERHEAD, which showcases their sonic diversity through songs as musically multifarious as the infectious "Oh Violet" and the powerful "Drop in the Bucket." With an incredibly energetic live show and a batch of songs that nod reverently to the great hard rock of the past while pursuing surprising new original musical ideas into the future, Eraserhead is a band you do not want to miss.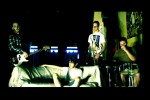 THE LIMBOS
Formed in Chicago in 2010, The Limbos began as a two piece with only Keyboards/Vocals and Drums/Vocals under the name "Stu Benedict." Shortly thereafter Maccabee Kelem joined Ryan Miera and Drew Current adding a bass and back up vocals. Ryan and Drew met studying improv in 2003. Maccabee had met Ryan when they played in a previous band named "Off the Radar" in 2008-09. All three being band veterans began rehearsing weekly at Music Garage in Chicago. Still do in fact. A year after forming, they met Ryan Imboden who jumped on board playing trumpet becoming the fourth full member. The Limbos have two albums titled, "Mmmm.." and "Rodeo Ballet." They are both available on iTunes, at live shows or at Reckless Records' locations in Chicago.
FALLEN RIVIERA
Will Parry and Steve Ornest began writing music together while studying at the Berklee College of Music in Boston. They sent their early demos back to music industry professionals in Los Angeles, and encouraged by their response, decided to make the move. Soon after arriving in Los Angeles they met bassist Matthew Denis and drummer Aviv Cohen, and Fallen Riviera was born.
The band hit the local club circuit hard, gradually building a loyal fan base. After releasing their debut EP entitled "The White Dress EP," Fallen Riviera embarked on a brief college tour.
They returned back into the studio and recorded "Six Mines," which was ranked album of the year by Music Connection Magazine and awarded them the 2011 Lauren Picard Emerging Artist of the Year Award at Cornell University. This sparked a five week national tour for the band.