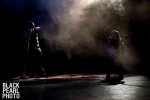 FLOOD DAMAGE
The moosemen of Prudhoe land were nervous. "You want to go to Amerika? Why?" asked the chief. "Because it is there," said Naked Seconds, the small wheel-chair bound boy, barely containing his rage, "Someone must get into the giant metal bird and fly to Amerika to set them straight about a few things." Thus the rebirth of Flood Damage began, helmed by insanity, new and improved, spreadable on toast. Beware.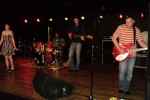 THE EMBRACEABLES
Embraceables is a soulful pop sextet that turn fans into addicts with catchy melodies, juicy harmonies, and volcanic stage presence.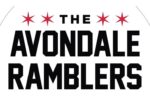 THE AVONDALE RAMBLERS
The Avondale Ramblers have been thrilling music lovers with their unique brand of Celtic folk/rock since their stage debut on St. Patrick's Day 2007 at Chicago's Double Door.
Having shared the bill with The Tossers, The Proclaimers, The Young Dubliners and many more at clubs and Irish fests across the Midwest, the band released 4 acclaimed CDs with original singer Kevin Flynn.
Striking out on their own in 2016 with Dublin native Hugh Daly, manning the lead vocals, founding members Sean Mulroney (bass), Andy Gerber (guitar/mandolin) and drummer Fred Frey continue to refine their blend of folk, rock, blues, country and even gospel; all filtered through an emerald colored lens.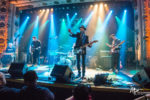 SIDERUNNERS
Veterans of the Chicago punk music scene, these musicians seamlessly cross genres. To see the Siderunners live is a lesson in grit, determination, and above all stamina. With a healthy respect for tradition, this unconventional lineup remembers what was best about music, and the kind of music that has endured over the years.
SCOTT LUCAS AND THE MARRIED MEN
Scott Lucas is best known as the singer/guitarist for the two-man, Chicago rock band Local H. But to go it alone, he has broadened his musical scope and greatly expanded his line-up, pulling together a collective of musicians that currently numbers seven and includes violin, accordion and organ. The result is quite different than Local H and a perfect fit for Lucas' heartfelt songs of longing for a love lost. Reviewers have compared the band to American Music Club, Tindersticks and Lambchop. .. "The irony of putting together a band this big to go 'solo' certainly isn't lost on me," Lucas says. "But I think the idea should be to try different things, to push myself." .. Lucas wrote half of the songs for his solo debut, George Lassos the Moon (G&P – Feb 2010), during a single week of a year-long separation from his girlfriend, emailing one song a night to her in hopes of getting back together. "The songs just kept pouring out of me — all the clichés are true," says Lucas. "It was totally spontaneous and unforced. And, it didn't really occur to me that it would be anything anyone would ever want to hear. I had absolutely no long term plans for any of these songs. For that first week, they were private love letters and nothing else." .. The rest of the songs came shortly after and Lucas soon realized he had an album's worth of material, but he didn't feel like this particular set of songs would work as a Local H record. "When people make solo records, they're usually borne out of ego and don't sound much different than their 'real' band," Lucas says. "I've always written the songs and had all the artistic freedom I could ever ask for in Local H. So, what would be the point of going solo? But it was very clear that these songs were different. They were just too fucking personal to be on anything other than a solo record." .. So, he put together a backing band — the Married Men — borrowing members from local indie acts the Tossers, Caviar and the Joypoppers and recorded his solo debut with producer Andy Gerber over a single weekend. By the time George Lassos the Moon was released months later, the band's live sound had noticeably tightened and the understated, quiet sadness of the album was not what fans were experiencing during their powerful live shows. .. To showcase the band's evolution after more time spent together playing live, Lucas returned to the studio with the Married Men after their first tour earlier this year to record The Absolute Beginners EP (G&P – Oct 2010), "When we recorded the first record, we hadn't been together for more than a month. Some of us barely knew the songs," Lucas explains. "I wanted to capture the band after it had been on the road. To see how the dynamic had changed. There's more energy." .. Named for the David Bowie track that they cover, the four-song recording, which clocks in around 30 minutes, also features re-workings of two songs that appeared on George Lassos the Moon, as well as a cover of Local H's "Hey, Rita," from their 2004 album Whatever Happened to PJ Soles?. Andy Gerber produced the EP, which is available on CD, digitally and on limited-edition vinyl. (Fans who purchase the vinyl version get a code to download a bonus digital album, Who Listens to Radio Anymore?: Live Sessions, an hour-long compilation of in-studio performances and interviews that Lucas & the Married Men did this past year.) .. Scott Lucas & the Married Men have toured the Northeast, Midwest and South this past year and turned in a blistering performance at the CMJ Music Marathon in the fall. They've also performed live on Chicago's JBTV, WGN and CBS Chicago, as well as on dozens of radio stations. .. Though he has no intention of abandoning Local H, Lucas has also never considered the Married Men a one-off project. He plans to keep them both going simultaneously and even released EPs by both bands on the same day this fall. "It's been great to watch this band grow," Lucas says. "It makes me really excited for the next album." .. .. .. .. .. .. What some people are saying about Scott Lucas & the Married Men: .. .. .. "In addition to his ability to craft indelible melodies, even when they're delivered amid a wall of fuzz and thundering drums, one of Lucas' strengths as a songwriter always has been a razor-sharp wit as a lyricist, coupled with a novelist's eye for telling details. The Married Men showcase the latter in a different setting, amid sawing violins, sweeping piano lines, wheezing accordion and organ, and seductive acoustic guitar that welcome comparisons to the likes of American Music Club and Tindersticks." – Jim DeRogatis, Pop N Stuff .. .. "The Absolute Beginners EP is a nice snapshot of a band hitting its stride. The band's debut album housed a collection of songs brimming with quiet strength, but the new EP showcases what a powerhouse the band has become as they've gradually built even more muscle onto the tunes." – Jim Kopeny, Chicagoist .. .. "…a massive wall of sound that is relentless live." – Exploding in Sound .. .. "… Lucas' most personal and introspective songs yet…" — Greg Kot, Chicago Tribune .. .. "[The Absolute Beginners EP] spins tales of love and loss, and it is a fabulous example of the band's astounding progress…. The tracks are longer and more tightly put together, their power contained purely in the intimate sound-scapes they produce. Specifically in "Last One," the stunning solo violin seems to pull so gently on the listener's heartstrings, forcing memories of lost love to resurface." – Kathryn Nasto, CMJ .. .. "The majority of the band's set consisted of subtle gems, like 'What Fools Allow,' a tender and honest reflection of love-lost, complimented by a woeful violin part………. But Lucas showed he hasn't quite lost his hard-rock edge, as proven in the full-band breakdown of 'Extra Special Bitter' … It was refreshing to witness a Chicago rock staple take the bold step out of the alt-rock confines and into an artistically progressive musical genre, free of the distortion pedal." — Neph Basedow – thedelimagazine.com .. .. "…a band finding its footing somewhere pleasant… [The Absolute Beginners EP] glitters in subtlety through the shadow of sharper sounds — the nuance of Rebecca Manthe's violin, Tom Szidon's multitasking piano hands, and of course, Lucas' spot-on lyrical depth. " — David Buchanan, Consequence of Sound .. .. .. Discography:…. George Lassos the Moon (G&P) – February 2010.. The Absolute Beginners EP (G&P) – October 2010.. Who Listens to Radio Anymore?: Live Sessions (G&P) – October 2010..