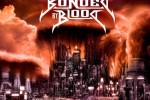 BONDED BY BLOOD
Distinguishing themselves from Southern California's extensive thrash roster, Bonded by Blood combine the raw aggression of punk and hardcore with speed, technical ability, attitude and good old-fashioned heavy metal. Formed in 2005, the teens set out with the task of finding a line-up to complete their vision. Despite clear musical differences, the band was united by their love for thrash and thus, Bonded by Blood was born.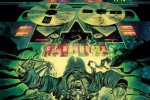 GAMA BOMB
GAMA BOMB are Ireland's premier speed thrash band.
GAMA BOMB's fourth album The Terror Tapes will be released in April – May 2013 on AFM Records.
Their last album, 2009's Tales from the Grave in Space, was the first ever album released for free by a signed band.
They like movies and drinking.