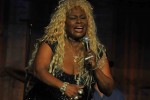 HOLLE THEE MAXWELL
When you mention the name "HOLLY MAXWELL"; you have mentioned a name that is respected all over the world and still is! Voted "Queen of Entetaining Entertainers" at the Cannes Musical Festival, France, just recently! And she is now better that ever before! Musically, this lady has just about done it all, traveling everywhere and knowing everybody that is somebody and is equally known by those same somebody's!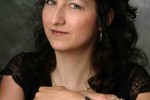 DONNA HERULA
With a percussive guitar style and soulful voice, Donna plays fingerstyle as well as blues slide guitar on her resonator guitars, including a 1930's National Steel Triolian and National Steel Tricone.
Donna was born and raised on the northwest side of Chicago. She began playing guitar at the age of 10. By 16, she was playing lead guitar in bands and writing original blues songs.
Influenced by slide guitar players Rory Block, Bob Brozman, Bonnie Raitt, John Hammond, Jr., Eric Sardinas, and Johnny Winter, Donna set out to discover the early blues musicians that inspired these players, which included Son House, Robert Johnson and Muddy Waters.
An accomplished slide guitarist, Donna performed a tribute to slide guitar master Robert Nighthawk at the 2009 Chicago Blues Festival for his centennial celebration. She also performed as part of a Nighthawk symposium for the Delta Cultural Center in Helena, Arkansas (Nighthawk's hometown), the King Biscuit Blues Festival (Helena, Arkansas), the Mother's Best Music Festival (Helena, AK), the Bayfront Blues Festival (Duluth, MN), Blues By The Bay (East Twas, MI) and The Festival for the Eno (North Carolina).
With harpist John Jochem, Donna won the 2010 Chicago Blues Challenge, solo-duo category, and represented the Windy City Blues Society at the 2011 International Blues Challenge.
Donna's second CD "The Moon Is Rising: Songs of Robert Nighthawk" was released in February 2011. The CD reached #32 on the Roots Music Report for most played blues album on the radio. In October 2011, Donna was nominated for the Best Female Blues Artist by the Chicago Black Music Awards.
Donna plays National steel guitars and is a featured artist on the National Reso-Phonic Guitars website.
She has been on blues radio programs including King Biscuit Time and Delta Sounds, with Sonny Payne, legendary host and member of the blues hall of fame, and Terry Buckalew, both on www.kffa.com through the Delta Cultural Center in Helena, Arkansas.
DIA MADDEN AND CRUISE MACHINE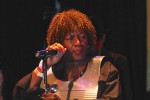 RAMBLIN' ROSE
Ramblin Rose: A triple-threat on vocals, blues harp, and washboard (and sometimes flute), Rose is a veteran blueswoman in the Chicago area and has been featured at the Chicago Blues Festival and Chess/Blues Heaven concert series.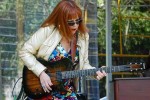 LIZ MANDEVILLE & THE BLUE POINTS
Chicago Blues Hall of Fame Master Artist, Liz Mandeville, has been a force of nature on the Chicago Blues Scene for over three decades. Known for her power house voice and prolific songwriting, Liz won both the International Songwriting Contest and the USA Songwriting contests and was named 2008 Blues Songwriter of the year by the American Roots Music Association. Last month she was named to "The Top 40 Modern Blues Artists" list by Alternate Root Magazine.
With her recording debut on 1996's "Live from Buddy Guy's Legends," as a singer with the Aron Burton Review (house band at Blue Chicago for 5 years) Liz Mandeville was a featured artist on 3 other releases from internationally recognized Earwig Music Company. She released 4 CD's of her own music for Earwig between 1996 and 2oo8. Liz also contributed her talent to Johnny Drummer's CD, Unleaded Blues and is featured on two Earwig Boxed Sets as well. Liz's original song, "Scratch the Kitty" from her 2008 Red Top CD spent 22 weeks at #1 on the Cashbox Charts. Most recently, Liz is featured on Earwig's 2015 release, "Angles Sing the Blues" with Shirley Johnson and Mary Lane.
Liz Mandeville released two CD's on her own label, Blues Kitty Music and has plans to release a third this year. Her current release, Heart 'O' Chicago, is in regular rotation on Stingray Music and SiriusXM. Liz is not only an award winning singer, songwriter & record producer, this year she was nominated for a Jimi Award for her guitar playing, which has been compared to the legendary Chet Atkins and, in some circles she is almost more famous for her washboard playing!
Liz Mandeville has performed in every major blues venue in Chicago, holding down long tenures at Blue Chicago, Rosa's, Bill's Blues, Kingston Mines. She's toured in 11 countries on 3 continents including headlining festivals such as the Durban South Africa Blues Festival (twice) Maastrich Queen's Day Fest NL, Sasquatch Reunion in Alberta Canada, Chicago Blues Festival, Riverfest NM, and many others. She's played nearly every state in the lower 48 and Hawaii as well.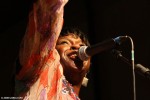 PEACHES STATEN
Peaches Staten is a world-class entertainer who is known for jet-setting across continents spreading the joy of blues. One week she is in Europe, the next in South America, back to the states then off again at the drop of an e-mail to some corner of the world entertaining the masses. Here we find her standing as the last blues artist to do a live recording at the original Buddy Guy's Legends. It is the last Sunday before it relocates after 21 years of being on the corner of South Wabash just steps away from Chicago's Blues Festival Grounds.
Staten was born in Doddsville MS. and raised in Chicago on a steady diet of blues, soul, gospel and R&B fed to her by her mom who was a member of the Whale's Inn Cicero Bunch Social Club and her stepfather was the DJ. She began her professional career in a zydeco band and an Afro Brazilian Samba ensemble and has gone on to work with the best that the blues has to offer and grace stages all over the globe. Her new CD, Live at Legends, is electric and Staten is engaging and energetic with a person- ality that pulls you into her inner cycle. She's not only the entertainment but she's also your hostess, your seatmate, your date and BFF all at the same time. She is an in- credibly talented player and surprises the audience when she plays it on boogie blues tunes like "Hole in the Wall" or zydeco-influenced originals like "Gotta Find My Man." Her rhythmic style and musicality are impeccable and though you can't see it on record her high chorus line kicks and flirty two stepping give the audience a jolt which is translated into sound on Live at Legends!