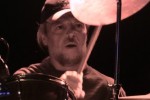 I-57 SOUTH
I 57th South is a band that doesn't fit into a single category. They can shift gears from Cash/Waylon to Buddy Holly/Carl Perkins to Skynyrd/Allman Brothers to Beatles/Springsteen. From the largest city to the smallest town – just like I 57 they travel as far as possible with an Illinois perspective on music.
REVERSE COWGIRL
everse Cowgirl have been on the grind for over a 4 years now, and the disc is just another milestone from the multifaceted band. Amongst the group's four members (Kari, Al, Dave and Julia), they've released other solo and side projects. They have collaborated with some of the finest talents in Rock, and blessed stages alongside a long list of luminaries including: The Cramps, Dale Watson, Lee Rocker of the Stray Cats. …. 2007 is poised to be a great year for the group, as they take their raunchy live show on the road, with road trips up & down 35W!! …. The girls are Kari Shaff on vocals and Julia Williams on drums. Kari has long been enthralling Midwestern audiences with her sass and formidable voice. Equal parts pout, purr & growl, she has a hell of a voice and an attitude to match. Julia, laying down a solid musical foundation, has a great ear for playing just the right part when needed. …. The guys are Dave Wolfe on slap bass & Alan Subola on guitar. Dave was a mover & shaker on the Minneapolis music scene, wearing the hats of musician, record label chief, radio host, DJ and booking impresario. Now living in Austin, Texas. Previously nominated as Minnesotas best guitarist, Alan has sung, composed and performed for a bevy of bands, on radio and on record. Both are from Minneapolis' own Vibro Champs, a Midwestern rockabilly institution and stars of stage and screen… ……
800 MILE MONDAY
Daniel Payne is certainly no stranger to the life of musical gypsyhood. His savage exploits of rambling and rounding have landed him onto stages, police radars, and detention chambers all over the United States and Europe. He started a solo project to record a few songs and save a few people's lives- including his own.