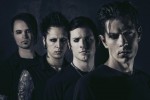 IMPERATIVE REACTION
In 2008, Imperative Reaction released Minus All and embarked on its most ambitious headlining tour to date. Shortly after the completion of the tour the band added guitarist/keyboardist Adam Vex (Seraphim Shock) and the live chemistry was solidified once and for all.
In 2009, the band took time off from writing to hit the road with fellow Metropolis Records artist, Psyclon Nine. The co-headlining tour, named "The Ruina Tour", saw the bands playing to capacity crowds across the US.
2010 was spent holed up in the studio creating the band's most ambitious album to date. Imperative Reaction is an electronic rock masterpiece that showcases a band in its prime; ready to blow any preconceived notions out of the water. There is no escape.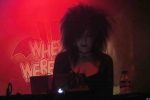 DJ SCARY LADY SARAH
Scary Lady Sarah is a nightclub DJ & party promoter (winner of Chicago Nightlife Awards' "Best DJ 2016.") Primary musical focuses are: goth, industrial, EBM, shoegaze, deathrock, ethereal, synthpop/wave, darkwave. Her club event Nocturna has been running continuously since 1988.  She also plays rhythm guitar & sings with The Bellwether Syndicate.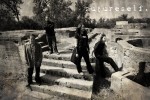 SUTURESELF
SutureSelf is a female-fronted Chicago electronic/industrial band that was originally formed as a solo-project in 2001 but evolved into a four-piece in 2009. Incorporating elements of metal, goth, EBM, and cinematic music, the band is hard to categorize. SutureSelf released a five song EP in 2010 and their first full-length album in October of 2011. The band recently signed with Beyond Therapy Records and released an album of remixes in September of 2012.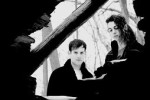 TWITCH THE RIPPER
Connecticut's Twitch The Ripper is the brainchild of singer/songwriters Jon Dobyns and Lonn. The two hung up their coats from performing nationally and internationally in hardcore / punk bands together in 2009, desperately in need of a fresh outlet and a change of pace. The synth pop duo self released a demo/EP followed soon after by their first full length. This was the Bodiless LP, which received praise from multiple media outlets. Fearnet hailed," it's their moody, '80s-influenced melodies and vocals that tie the whole package together, and that element has led many listeners to compare them favorably with the post-punk icons of that decade, including New Order and Depeche Mode. Not too shabby for a band that's only been on the scene for a couple of years." Within weeks of the release of Bodiless, and regional shows with Nitzer Ebb, Xiu Xiu and The Birthday Massacre, TTR was selected to open for industrial legends, My Life With The Thrill Kill Kult and 16Volt on a full national tour. From there, Jon and Lonn stayed on the road throughout the next few months supporting their record and soon to be label mates, Imperative Reaction, God Module and System Syn.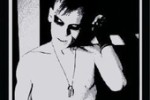 LUDOVICO TECHNIQUE
The name: The name itself stems from the drug-assisted aversion therapy found in the novel and film "A Clockwork Orange", in which the patient is forced to view violent imagery while injected with experimental medication in an attempt to condition the subjects behavior.
The sound: It is harsh industrial music highlighting the dark aspects of the human experience as well as the depths to which the human mind can deteriorate.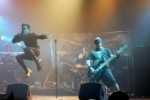 BELLA MORTE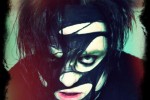 GOD MODULE
God Module combines elements of harsh Techno, Darkwave, Goth and Industrial. Pounding beats mix with hypnotic synth hooks, deranged film samples and psychotically-effected vocals to make up a sound that is as disturbing as it is danceable.