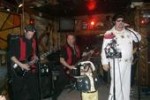 JOHN BURROWS PROJECT
THE Legend of "John Burrows" Two hours after Elvis's death was announced publicly, a man who reportedly looked remarkably like Elvis purchased a ticket for Buenos Aeries, paid in cash, and used the name John Burrows: the same name Elvis had used as an alias several times before.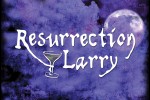 RESURRECTION LARRY
Described by Chicago Tribune as "Pink Floyd vs. Led Zeppelin in a Barfight on Mars" Resurrection Larry has been delivering a full concert experience to audiences in the Midwest for the past 3 years. Augmented by the addition of a "Heavenly Choir" of concert quality vocalists, Resurrection Larry shows are even more engaging and interactive. Resurrection Larry is a "Don't Miss" Show.
–Chicago Music Scene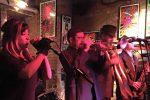 THE JESTERS
Local Chicago band, The Jesters, have been playing the Chicago scene for nearly 20 years. With a heavy dose of showmanship, The Jesters mix funk rock, ska, swing and a bit of insanity into a high-energy, action packed show. Don't bother pulling up a chair…you'll be too busy dancing!