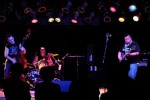 JOHNNY MURDER & THE 25 TO LIFE
Hailing from the Southside of Chicago, Johnny Murder & the 25 to Life have been bangin' out shows all over the country since 2006. With songs soaked in evil oozing reverb and lyrics, they've created an incredibly dynamic sound that keeps people on their feet and blood-thirsty for more! Johnny Murder's unique brand of Psychobilly takes bites out of many different genres and rolls them all into one rockin' and wreckin' good time!
LUCKY STRIKES
Left on the door stoops of several saloons and brothels on Beale street as infants, the current members of The Lucky Strikes grew up in the center of the red hot cauldron of Rockabilly. Roaming the back alleys of Chicago for the last decade or so, brings a gritty urban edge to their decadent brand of Hillbilly Bop. If you are truly concerned about any of the important females in your life, leave them at home. The loss of innocence would be much too profound.
THE RECENTLY DECEASED
"Rock, psychobilly, metal, horror punk, hardcore, blues, country, rockabilly, pop" music… it quickly became very hard to throw the band in one catagory since there were so many influences in the style it became "all of that and none of that". The sound has a raw blues rock foundation, with metal inspired guitar riffs, traditional rockabilly bass walkin, punk rock drum beats, and pop vocal harmonies that make up the original sound that is The Recently Deceased.