JUNIOR SMALLS AND THE CRIMINALS
Junior Smalls and the Criminals are a catchy new power pop outfit from the Midwest, fronted by producer John 'Junior Smalls' Randall, who is an odd music machine to say the least. With childhood fascinations ranging from The Smiths to NWA; Dinosaur Jr to Public Enemy; Junior Smalls is a musician formed through years of experiences so varied and polarized that even he struggles to understand how they all came together.
RILEY JAMES
After over a decade of playing in various punk rock and hardcore bands, in 2004 Riley returned to his roots and began playing country and folk music in the bars and cafes of St. Louis, Chicago, Kansas City and every little Midwestern town in between. In 2006, Riley self-released his debut album Whiskey, Ramblin, and St. Louis Nights (James Whitlock, Homeset Studios), which contains songs of sorrow and redemption.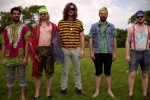 BROTHER GEORGE
raised on mars, the land of fine spices; Developed an allergy to martian milk (the only ingredient in martian meals); Sublet their garden apartment, and moved to a more suitable home with less martian madness (a side effect of a menacing bacterial infection acquired through too much martian milking.)