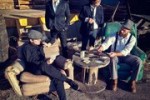 JUSTIN AND THE SALTY DOGS
Justin and the Salty Dogs began making music out of necessity. When Brownie McGhee (1915-1996) so astutely said years ago that "Blues is Truth," he exposed the roots of an ancient philosophical tradition that regards music as playing an important role in the welfare of a troubled mind. The ancient Roman philosopher Seneca (ca. 4 BCE-65 CE), for instance, speaks like a bluesman when he says, "Let the mind be soothed by the reading of poetry and occupied by the tales of history; it should be treated with sensitivity and finesse. Pythagoras used to calm his worried mind with the lyre; and who does not know that the cornet and trumpet act as stimulants to the mind, just as certain songs provide it therapeutic relief" (De Ira 3.9). The songs by Justin and the Salty Dogs, initially self-prescribed medicines, have precisely this aim. The "physicians" with whom they have consulted are numerous, but a few are especially worthy of mention: Mississippi John Hurt (1893-1966); Jimmie Rodgers (1897-1933); Sonny Terry (1911-1986); Woody Guthrie (1912-1967); and Muddy Waters (1913-1983). They tip their hats to these sage musicians and others like them, in all their complexity and problems, for pointing the way.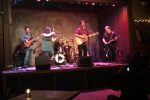 DEEP CRICKET NIGHT
Deep Cricket Night is a four cornered, pearly moonlight serenade unfurled headlong into dawn with Beggar's Banquet in your ride, Townes Van Zandt at your side, and an original melodic moan comprised of Lance Drake (gtr, vocals), Greg MacAyeal (bass), Jaime Delgadillo (lead gtr, dobro, vocals), Kathryn Diana (violin, vocals), and Bill Skafish (drums).
Musically, they build their unique electric-acoustic sound with an instrumentation highlighted by the tasteful lead guitar of Jaime Delgadillo and the lead vocal-lyrical presence of the band's primary songwriter, Lance Drake.
Deep Cricket Night is a versatile band that can play any kind of venue and do so with a more stripped down sound and line up or with the full band. They mix indie rock, alt country, folk, and indie grass into a cohesive style all their own.