KELLY CONDRON
Well, it's been a while. After playing 150 shows last year and making appearances on CBS and various radio stations across the country, I needed a break. It wasn't necessarily a choice. If I had it my way I'd still be touring everyday, but fate and my pocket book said I might need to take some time to regroup. …… They were right. After multiple car break downs and band members changing out, a regroup was in order. I've spent the past 8 months in Chicago just living and enjoying music and people. I spent a lot of time playing with different musicians and writing new music and lot of time (oddly enough) surrounded by recovering alcoholics and drug addicts. Yep, that's right. It started as something to do with my music to encourage people on my time off (I've played a few places like that while on tour). Well, I ended up completely loving it. There I was every friday night surrounded by people who've been through it all being completely honest with who they were and their healing process. It brought out change in me…in a non fight club kind of way. I'm taking what I've learned and now gearing up to tour again this fall with music from my self -titled album engineered by the awesome Ryan McConnaughay of Moody Radio……. With some new band members and a newly inspired purpose, we're taking this music to the next level. We've already got to play with some pretty amazing groups (groups like Relient K, Switchfoot, Phil Wickham, Keri Noble, Kutless, and John Reuben to name a few) and are pretty thrilled to play with some even more amazing ones coming up (preferably Beyonce, but I'll let you know.) Honestly, though, if it's just us at a coffee shop playing for a few people, we'll be excited still. I can't wait to see everyone and for you to hear these songs live.
ABBI RAJASEKHAR
Abbi Rajasekhar has been performing music for as long as she can remember. When she first began singing for audiences she was barely strong enough to hold the microphone by herself. Abbi really began writing her own music while she was in highschool and self released her first full length album, Anywhere, when she was 18 years old. Since then she moved to Chicago and has never stopped performing. In 2007 she put out her sophomore full length release, Make Sure. With this album she has toured all over the Midwest and East Coast charming audiences with her unique, soulful voice and relevant, poignant lyrics. The buzzing of crowds across in bars across the country have faded to silence as audiences become wrapped up in the passion of her heartfelt story telling ballads and the intimacy of her performance. In March of 2011, Abbi released a 7 song EP, The Living Room which has been one of the most rewarding projects Abbi has ever worked on. Over the years many of Abbi's favorite and most memorable performances have been house shows. When fans have become friends and opened up their homes and their living rooms for intimate, truthful nights of music. The Living Room was recorded and produced with these house shows in mind in an attempt to replicate those small wonderful shows. One undeniable quality of any of Abbi's performances is the joy and gratitude bursting out of her as she sings. She is so thankful for every opportunity to sing and for every new person she gets to meet at her shows that as you watch her performance you are watching her slowly fall in love with everyone in the room. In August of 2011 Abbi is incredibly excited finally be releasing her 3rd full length album, The Young Adult. This album is a huge step for Abbi and she can't wait for everyone to fill their ears with it.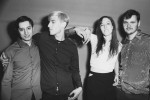 PREE
"Pree's unique brand of lyrically driven, experimental pop throws
 a shock of light on a rare nexus of style and substance within an irresistible
 sonic realm.
Pree's latest album, Rima, will be released on Paper Garden Records this fall."