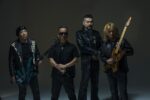 LOUDNESS
Akira Takasaki / Guitar
Minoru Niihara / Vocal
Masayoshi Yamashita / Bass
Masayuki Suzuki / Drums
By the time they were introduced to the West by 1985's Thunder in the East album, Japan's Loudness had arguably already hit their peak. Their previous effort, Disillusion, was the fourth chart-topping release in their homeland, not to mention a critical triumph among members of the European press. But when faced with a contingency plan to conquer America, Loudness were gradually forced to alter their sound by unsuitable producers and clueless record company hacks, never coming close to translating their far-East success into Western stardom.
Guitarist Akira Takasaki and drummer Munetaka Higuchi first played together during the mid-'70s in a mainstream rock band called Lazy. Unhappy with the band's direction, the duo split and decided to follow in the footsteps of Bow Wow (the first ever Japanese heavy metal band), forming Loudness with vocalist Minoru Niihara and bass player Masayoshi Yamashita. Combining a classic metal approach with
Takasaki's Eddie Van Halen-inspired guitar heroics, the band immediately scored local success with their first three albums, which were sung entirely in Japanese. But it wasn't until the release of their first live album, Live-Loud-Alive, and fourth studio effort Disillusion that the group attracted any significant attention outside their homeland, eventually issuing an English version of Disillusion.
Lightning Strikes Atlantic Records soon came calling and the band's international career began in earnest with 1985's Thunder in the East, which sold quite well in the U.S. for its novelty value, giving the band false hopes about their acceptance by Western metal audiences. Subsequent efforts, Lightning Strikes and Hurricane Eyes, were "made to order" records geared for the American market, and saw the band slowly drifting away from their roots towards a more commercial, pop-metal sound. All to no avail, and after recording 1988's independently-released Jealousy, the classic lineup's glory years came to an end with the firing of Niihara and the arrival of American-born singer Mike Vescera for 1989's Soldier of Fortune. 1991's disappointing On the Prowl saw them resort to re-recording watered down versions of some of their Japan-only material and would be the last to feature Vescera, who briefly joined the temperamental Yngwie J. Malmsteen's band.
Ghetto Machine Yamada Masaki, from rival Japanese metal band EZO, was brought in for Loudness' 1992 self-titled effort, 1994's Heavy Metal Hippies, and 1997's Ghetto Machine. The latter saw the departure of the band's long-time rhythm section being replaced by bassist Shibata Naoto and drummer Homma Hirotsugu. This lineup recorded two more albums, 1998's Dragon and 1999's Engine, after which it has been rumored that Takasaki welcomed back the original members for an as yet unconfirmed reunion.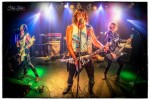 HESSLER
HESSLER, under extremely difficult and hazardous conditions, must through vicious determination execute their mission by any means necessary so as to set them apart and above other units in the same war.
HESSLER is an American heavy metal band based in Chicago, IL. Known for their energetic live performances, the band has made a mark in the metal and rock scenes through consistent promotion and touring. HESSLER have toured the U.S. & Canada, released five music videos, performed with an array of national and international acts, and are the subject of a documentary which has premiered in numerous festivals around the globe.
Formed in 2008 by founder and guitarist Igz Kincaid, HESSLER built a following in the Chicago music scene through various performances and relentless promotion. The "Bad Blood" E.P. was released in 2011 and the band played through the next year racking up regional and national performances, including SXSW & Rocklahoma, which shaped the band for their first full-length album "Comes With the Territory". After the album release on November 27, 2012, the band embarked on a U.S. tour in support. A return to SXSW 2013 kicked off a new month long U.S. Tour followed by a return performance at Rocklahoma w/ Guns N' Roses, Alice in Chains, Korn, and many more. HESSLER provided music for the first documentary on legendary wrestler "The Dynamite Kid" Tom Billington. During the summer after successful festival performances, the band was voted the "Best Metal Band" by Chicago Reader and released a new music video was released through Revolver Magazine.
HESSLER completed a 25 show coast-to-coast U.S. to close out the year and started 2014 off with the release of a new single/music video which was followed by an east coast tour. On June 10, HESSLER released a new E.P. titled 'Ghost Dance'. The E.P. captures an evolving band sharpened by touring. The summer of 2014 was comprised of a 36 date tour, which included their first performances in the Pacific Northwest as well as six dates in Canada. A video for the second single off of the Ghost Dance E.P. titled "Stuck On You" was released on October 9, 2014. Currently the band is working on new material to be released in 2015.
HESSLER have performed at SXSW and Rocklahoma in 2012 and 2013, Summerfest in 2012, and shared the stage with Slash, Buckcherry, All That Remains, Steel Panther, W.A.S.P., Sebastian Bach, RATT, Mushroomhead, U.F.O., Michael Schenker, Cinderella, Loudness, Doro Pesch, U.D.O., Skid Row, L.A. Guns, D-A-D., Blaze Bayley (Iron Maiden), Sister Sin, Crashdiet, Otep, Butcher Babies, Wednesday 13, The Last Vegas, and many more.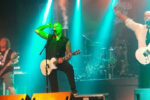 PIPE
Pipe hails from the south side of Chicago and you can hear it in their tough no nonsense hard rock sound. Stephen Favarato (vocals/guitar) responded to a Craigslist ad from Frank Damiano (lead guitar) as he was in search of a muse to ink some songs. Two days and a few emails later they had Two songs finished….ahh the wonders of the internet. They met the next day and found themselves onstage doing an open mic night and laying down some Zep, Alice in Chains thus welding the bond. Their first album entitled "Shovel mouth" was finished in 2008 and brought a modern hard rock/metal sound that is a grinding churn of several influences. Several personnel changes later, Pipe found there cut to the bone core when they added former Well of Souls drummer Paul Brodlo and local Chicago bassist John Sterba . The new sound went back to their true love and style combining all the influences they grew up with. Hard rock, a slather or blues and at times hint of country and western rounds out the knock out punch of Pipe's sophomore offering "Hit This". Released in 2014 Hit This was recorded in Chicago but then brought to New York and the doorstep of Sonic Stomp Studio and into the hands of Mike Orlando guitarist/recording engineer for Adrenaline Mob. His take on the music sent it to the next sonic level and brought out the real barn burning sound of Pipe. Their style and sound is most notable in their debut video "Play that Johnny Cash song", a true life tale of a wild party and heavy dose of the man in black