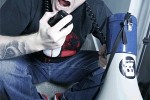 MAC LETHAL
Mac Lethal is a hip-hop/folk artist from Kansas City, MO After receiving his start as a battle rapper at the prestigious worldwide reputation freestyle battle festival Scribble Jam, he broke the stigma that battle rappers can not write quality songs, and he began releasing his own original music attract the attention of artists like Sage Francis POS and Atmosphere who he later toured with the respective
His direct influences are lyrical writing vocalists like Tom Waits and Isaac Brock, the puns and inventions of artists such as MF Doom and Eminem, and the attitude as stand-up comedians like Bill Hicks, Louis CK
He currently operates and owns independent record label Black Clover who has been the home of the Mac self-criticism was released Love Potion Collection CD-skIvor (volumes 1-5) and Than Original Sessions 11:11
ROBUST
A veteran of Chicago's burst in underground hip hop, Robust is known in the Chi town scene for his past collaborations with groups such as Scam Artists and The Molemen. His 2000 independent release "Freelance Gynecologist" got attention worldwide from fans and critics of dope punchlines and humorous rhymes. Soon Bigga would appear on projects like Sage Francis' "Still Sick Urine Trouble" & Qwel's debut "If It Ain't Been In A Pawn Shop, Then It Can't Play The Blues", where he showed his growth into a more serious lyricist.
After success with 7″ single "Flibbertigibbit" (also on Meaty Ogre's recent "Leo vs. Pisces"), hip hop was definitely ready for Robigga to step up the game. Enter "Potholes In Our Molecules", the brand new full length on Galapagos4.
Things get very serious on this deep album, as Robust bares it all from the inside out, with his intricate flows & creative rhyme schemes intact. Of course he comes off with some humor, wit & straight rap savvy as well. The supremely crafted beats, handled mostly by Meaty Ogre & east coast producer Prolyphic, create a solid moody backdrop to keep your head stuck on nod. Dreas, Maker, Sun Spark & Bless also contribute heat to this 17 track album. Here's to life's flawless imperfections, flawlessly perfected as hip hop potholes.
SECOND CITY CITIZENS
Chicago's very own Trifecta of Mic Wreckers, the Second City Citizens, have not slept much in 2011. Since voltroning in 2010, the alternative hip hop trio has toured relentlessly in the Midwest—playing notable shows with Macklemore & Ryan Lewis, C Rayz Walz of Def Jux, Mac Miller, Blueprint, CunninLynguists, Mac Lethal and many others. Emcees Rich Jones, Swords the Ronin and Troy Boy have released a combined 5 projects—filled to the snapback brim with fun storytelling, clever lyrics and twenty-something sight and sounds—headlined by the compilation album Spliff Notes. With a project with renowned producer Tony Baines (Supertrap) on the horizon, SCC is ready to spread their love for hip hop and energetic live performances to the masses—in the Second City and beyond.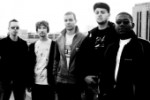 ANTI-CREW