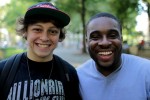 OCD: MOOSH & TWIST
OCD is an up and coming rap duo straight out of Philadelphia, PA. Their unique progressive hip hop sound has been receiving plenty of attention recently on the East Coast. Still high school seniors, Moosh & Twist are two teens with dreams to change the game in a positive way. Two young men with the drive to make it. Swag.
THELLO JAY ERA
By now you've either heard of or you're just now starting to hear about the Chicago Native Thello Jay. Only 20 – years- old he is slowly becoming you next favorite independent hip-hop artist. Thello started rapping at the age of 14 but it wasn't until the age of 15 when he met a producer by the name of Pyro (of The Innovatorz), that he started taking his career serious. It was an instant connection, where they both found out they shared similar taste in sounds, and from there they went on to do work and create good music.
With his ability to flow and deliver over instrumentals he continued to work on his story telling, and concept building of his tracks to give you a complete song on every track is very rare these days from an artist of his age and experience level.Thello listens to and gains influence from tons of artist such as; Jay Z, Kanye, Lupe, T.I, 50 Cent, Lil Wayne,and Rick Ross, and the list goes on of course. And you know the iPod is full of classics. He stresses on being original and wants the listener to feel that with every track that he releases.
As of now he is in the studio working on the next project and working with more Chicago based artist, producers, & DJ's as he climbs his way to the top.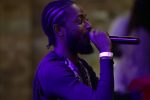 THE BOY ILLINOIS
Priority/Capitol Records Artist Illi composes and delivers lyrics with a raw and unabashed eloquence, weaving together prose and poetry that draw upon his upbringing on the East Side of Chicago. An avid philanthropist and the consummate gentleman, he volunteers with inner-city schoolchildren to support positive community development. He utilizes his intellect to challenge the status quo by incorporating into his lyrics a reverence for history, a love and intricate understanding of his proud Haitian heritage, and a contagious energy that pulls fans deeply into each one of his songs. His powerful music has garnered major accolades; The Boy Illinois has been featured on BET.com, Thisis50.com, Revolt TV, Complex Magazine, hiphopdx.com, CBS Radio, Shade 45, and XXL Magazine. He's shattered the glass ceiling by being the first-ever rap artist to perform at the Native American Music Awards. Hip Hop Weekly named him as one of their 'Next to Blow' artists. Chicago-based hip-hop blog Fake Shore Drive fingered his sophomore release as one of the most highly anticipated of 2014. He's been interviewed repeatedly by legendary Hip-Hop journalist, MTV alum and radio personality Sway Calloway. The hype surrounding his career attracted veteran rap maverick Lupe Fiasco, who invited him on three separate national tours in 2015 and 2016. Their long with-standing relationship drove Lupe to declare Illi as "…one of the leaders of the next generation of hip hop."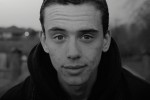 LOGIC
Hailing from the DMV, more specifically Maryland, 22-year-old rapper Logic has been steadily cranking out music over the past couple of years that, at times, makes you feel like you're back in '96. The funny thing about it, though, is that's precisely his goal. Never one to conform to "what's hot" or "what's buzzing," Logic has been inspired by the Hip-Hop that helped redefine the genre and culture throughout the 1990s. Artists and groups like Nas, Wu-Tang, Jay-Z, and Gangstarr, are all influences of the young rapper, who has found a way to combine what he loved about each artist and give you something that is raw, lyrical, innovative, and fresh, while at the same time being 150% Logic.