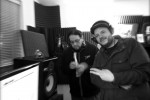 QWEL & MAKER
Hailed by many as one of the most skilled and innovative lyricist since hip hop's conception, Qwel is not your average ambiguous applause monger. Seasoned within Chicago's unrelenting battle circuit, Qwel found his niche among his soon to be crew at University of Chicago's WHPK Wednesday night rap show. The show, a staple in Chicago underground history, was then hosted by DJ Natural and Kid Knish. There he would meet both Denizen Kane and Qwazaar and soon after they would form Typical Cats. The project that they shortly after released, would instantly gain both national and international acclaim. When Qwel and Maker first discussed the possibility of collaborating on the first of the four horsemen/seasons albums neither one of them could have fully known exactly what they were unleashing on the underground hip hop world. With Makers rare and completely unprecedented production style, Qwel saw an opportunity to return to true school ripping it with the proper canvas to topple topics that the cornier, true school emcees wouldn't dare. With a much more up beat and banging approach to the songs Qwel and Maker dropped one of the greatest underground hip hop albums of all time, "The Harvest".
RIFT NAPALM
Rift Napalm is the future.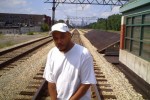 HELLSENT
Hailing from the south-side of Chicago, He.llsent is known for balancing deep social commentary with hardcore rhymes. He.llsent came to the forefront in 2005 when he, Alongside Qwazaar and Silence released their groundbreaking album "Suicide Prevention" as OuterLimitz on Galapagos4. Praised by critics & fans alike as arguably the best underground hiphop album of the year. A solo effort entitled 'Rainwater' in 2006 (Galapagos4), touring extensively, followed by 2 more solid releases 'False Profit' (2010 Galapagos4) & 'Just Another Mixtape' (2011) gained the Emcee a dedicated following and he has since then never looked back.
QWAZAAR
At this point in his career, Qwa's pedigree is unquestionable. South Side representative extraordinaire; Low End theorist; endlessly inventive with flows and increasingly daring in subject and range. Long hailed for his vocal ability, the decades have seen Qwa transform into the rare artist whose symphonic flow is effortlessly matched to pitch-perfect confessional content. The moments that meld both into a unique storytelling voice are rare—Rakim's "The Ghetto" comes to mind, as do Black Thought's post-bop excursions. Qwa's true corollary, however, aren't his fellow MCs—it's Charlie Parker, whose wrenching solos feature a technical genius that are only matched by their sorrow—the sound of Icarus' wings melting. He's found his proper spar this go-round—Batsauce is a Berlin-based turntable Gillespie (URB recently dubbed him "the next 'it' thing in underground hip hop"), and their first full-length is a true titanic, trans-Atlantic meeting of the minds.