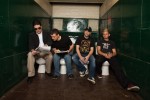 SHIFT
With the future on the horizon, so emerges change. Birth and Death of all things. it is now 2012, and from Chicago comes the punk rock band Shift.
Shift started in early 2011 by Joe Hibbs (Guitar), with later additions being Dan O'Brien (Bass), Mike Miles (Vox), and Dennis Michael (Drums) and right out of the gates recorded our first album in less than 6 months. When you are driving around your Dodge Dart, pop in Shift's first album "Issues and Addictions" and crank it. You car will be instantly transformed into a Trans-Am going 140 mph….
Un-clear your head and listen to SHIFT.