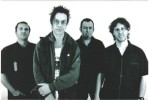 SUBHUMANS UK
Subhumans were, between 1980-85, one of the most prolific and original of the evolving UK punk scene; they were based in England, Musical influences were a mix of Sex Pistols, Damned, and similar punk originators, and prepunk bands like King Crimson and Frank Zappa, which led to a style of punk more intricate in its structure than their contemporaries, without losing the base energy and dynamics of punk. Dick's lyrics, at once socially aware and heavily critical of social norms, placed them in the anarcho-punk area of the ever-expanding UK punk scene of the early 80s, alongside Crass, Antisect, Conflict, and Flux of Pink Indians.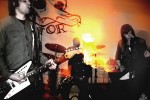 DAYLIGHT ROBBERY
"Daylight Robbery: Sounds like their records come with a spool of police tape that raps around your stereo as it plays. It cordons off a crime scene, sets the place in noir-ish blacks and whites, expands to ten times its original volume, and carefully inspects and detects."
-Todd Taylor, Razorcake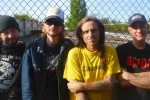 MDC
MDC (Millions of Dead Cops) is an American punk rock band formed in Austin, Texas in 1981. The band was subsequently based in San Francisco, California, and are currently based in Portland, Oregon. Originally formed as The Stains before changing their name, the band also changed their name to a different initialism of MDC with every new record released. They play fast hardcore punk music espousing far-left sociopolitical ideals, with singer Dave Dictor expressing his animal rights, gay rights, transgender rights, pro-racial equality and anti-capitalist convictions.
MDC eventually released material through ex-Dead Kennedys singer Jello Biafra's independent Alternative Tentacleslabel. In the 1990s, Dictor published editorials for the internationally distributed fanzine Maximumrocknroll. MDC's initial run ended in 1995, and the band spent five years on hiatus before Dictor returned in 2000 with new band members.