THE BRIBES
THE BRIBES are a powerful Chicago trio of dirty, moody, soul-moving rock and roll.
Their roots of musical taste range from classical, blues, jazz, and rock.
The members of The Bribes are: Joe Blickenov on drums Ed Doerge on bass guitar, and Philip Toscano on guitar, piano, vocals.
All songs Written by THE BRIBES.
DAN MCGUINESS
To call Dan McGuinness a singer is an understatement.
Dan's voice harkens a listener's memory back to a time when Blue Eyed Soul ruled the radio. Full and powerful, Dan's voice can go from edgy and rough to soft and delicate in an instant. His incredible range and perfect pitch are complimented by his expert technique and his soft touch.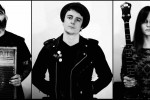 FORT DEFIANCE
Fort Defiance is high-energy, front-porch-folk trio, from Nashville, Tennessee; born from the solo careers of folk singer Jordan Eastman and Virginia based heart-throb Laurel Lane. A month after meeting, the two took to the road; living in the back of a truck and playing shows across the country. After being met with great response, they recruited drummer and long-time friend, Dave Martin (to carry the luggage), continued touring, recorded a 100% crowd-funded album, and the rest, as they say, is history. They've even moved from the truck to a tow-behind-trailer; into what feels to them like mighty fancy livin'…
Pick up their debut album "Worry Has No Home"
available March 3rd, 2015