THE LIVING DEADS
Hillbilly Hellcats Drummer! Jealous boyfriend!! Guns!!! Stolen truck! Plane ticket! New Bass player!
The Living Deads take Do-It-Yourself to a new level. From living full time in their RV, designing and printing their own t-shirts, to booking their own tours, this band takes it all upon themselves and they are still ready for more………
With Randee McKnight on drums/vocals and Symphony Tidwell on upright bass/vocals, they have made a name for themselves across the U.S. and Canada by "Kidnapping" various guitar players after their guitar player quit on them at 3 am as they were leaving town for their tour.
This rockabilly duo set out to turn the tables on the traditional way things are done in a band. Normally, it is the guitar player/singer who makes the calls. The Living Deads. Would rather throw a burlap sac over the head of tradition and start making demands.
They have kidnapped Danny B. Harvey, of The Head Cat; Chuck Hughes, of The Hillbilly Hellcats; James Hunnicutt, of the Revolvers; Hank Hays and many more.
There is no telling who they will have next in their burlap sack, so don't even think about missing a show when they come to your town!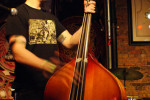 NOTHING TO GAIN
From the fires of hell they rise with powerful guitar riffs, pounding bass lines, and intense drummming to make a permanent scar on the Chicago music scene. With influences such as The Koffin Kats, Mad Sin, Eddie Cochran, and Johnny Cash they're not here to tell you how to dress, who to be, or what to believe in. They sing of your nightmares and quiet possibly some of your dreams. Lifes to short to worry about money, politics, and religion so fuck all of that and lets have a good time!!