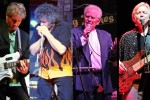 DOUG JAMES & THE POCKET
You probably want to know who we are, right? Well, we make music that matters to us – part blues, part funk, part r&b, part rock. We play real loose with the proportions, though.
In 2010, former Chicago Dee Jay Doug James recruited a veteran band of Chicago musicians to form Doug James and The Pocket. Since then we've been tearing through Chicagoland with shows at the House of Blues, Buddy Guy's legends, the Hard Rock Cafe, Reggies, Harlem Ave Lounge, the Chicago Blues Fest, Ribfest and other venues. We finally captured our energy in a newly released cd "Leg Up", available for download on itunes, cd baby, amazon, google plus and on bandcamp. Our music can also be heard all over the world on jango & spotify. We've appeared on WGN tv-9's midday music show as well as frequent guests on the Hambone Blues radio show on wcdb 90.9Fm.
We hope that when you listen to us you dance a lot, laugh some, and yes, maybe even think some. That's what we're all about. Hope to see you at the next dance.