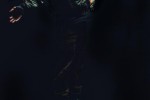 STEFAN PONCE
THELLO JAY ERA
By now you've either heard of or you're just now starting to hear about the Chicago Native Thello Jay. Only 20 – years- old he is slowly becoming you next favorite independent hip-hop artist. Thello started rapping at the age of 14 but it wasn't until the age of 15 when he met a producer by the name of Pyro (of The Innovatorz), that he started taking his career serious. It was an instant connection, where they both found out they shared similar taste in sounds, and from there they went on to do work and create good music.
With his ability to flow and deliver over instrumentals he continued to work on his story telling, and concept building of his tracks to give you a complete song on every track is very rare these days from an artist of his age and experience level.Thello listens to and gains influence from tons of artist such as; Jay Z, Kanye, Lupe, T.I, 50 Cent, Lil Wayne,and Rick Ross, and the list goes on of course. And you know the iPod is full of classics. He stresses on being original and wants the listener to feel that with every track that he releases.
As of now he is in the studio working on the next project and working with more Chicago based artist, producers, & DJ's as he climbs his way to the top.