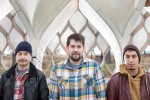 THE SWEEPS
The foundation of any band is musical kinship. Within the exposed confines of a trio, this rapport is amplified, leaving an indelible mark on the songs. Glance through rock history and we see this repeatedly; the groundbreaking strut of Cream, the irresistible pop of The Police, the undone roar of Nirvana. Remove any member and the band's core unravels. For Chicago-based trio, The Sweeps, this affinity is vital. Their core is firmly intact.
Each member of The Sweeps–Bob Dain, Santiago Torres, and Chris Dye (ex-Chin Up Chin Up)–brings a hefty presence to their lean arrangements. Challenging the sonic boundaries of a trio, both Dain and Torres sing with longing, conviction and fury. Dain's dexterity, equal parts pedal-board and guitar, ranges from a delicate strum to an incandescent wail. Countering Dain, Torres brings a solid bass thump; playing slinky, soul-inflected rumblings along with fractured melodic fuzz. Dye's hook-heavy drumming supports Dain and Torres, while lending a swaggering rhythmic architecture to the songs. Live, the band explodes with an infectious adrenaline that has ignited their strong Chicago fanbase, propelling them toward building a national audience.
On the band's full-length debut, Swift Armour (out now), The Sweeps capture a live immediacy, yet further explore and refine their craft. Recorded at Chicago's Minbal Studio with the help of producer/engineer, Benjamin Balcom, Swift Armour is an emotionally rich and honest evolution for the band. It is a collage of loud guitars and chanting vocal hooks, an intimately pounding cadence, a call to arms. It is a record with a strong sense of place, Chicago to be precise—the historic struggles, the dying and thriving neighborhoods—all inhabit these 13 tracks. From the lush death march of the opening title track to the dark pop hymn "1600cc Engine," this record is equal parts confession, exultation and vindication: embittered but embracing. Swift Armour is an ode to Chicago: a battle between the harsh and the beautiful.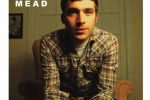 MITCH MEAD
Mitch Mead's songs are equal parts heartbreak and humor, misery and mirth, sci-fi and fantasy. And each one is roughly 25% alcohol by volume. This Michigan-born, Chicago-based singer/songwriter wields an energetic and highly literate brand of folk rock that is as much melancholy as it is euphoria. Call it what you will, this is folk music that refuses to sit down.
THE HOUNDS BELOW
The Detroit group The Hounds Below draw elements from their eclectic '90s upbringing and old school love affair with 50's rock n' roll to arrive at a satisfying synthesis of rock and pop. Vocalist Jason Stollsteimer, bassist Jesse Shepherd-Bates, drummer Griffin Bastian and guitarist Skye Thrasher were born out of an assortment of bands from the suburbs of Detroit. The group got its touring start on the mid west bar circuit doing opening slot for bands like Airborne Toxic Event, BRMC, The Horrors, The Like, The Heavy and Fountains of Wayne. In the same year the band pressed 500 copies of a single on its own label, Intheact Records. The A-side was a Orbisonish ballad the other a Johnny Cash sounding burner hinting at their rock n' roll tastes. Shortly after, they released an EP full of songs reminiscent of Modest Mouse, Jeff Buckley, The Smiths, Pixies and even Elvis. Since the release the band has been touring the US/Canada and are currently recording their first full length album before venturing to the UK/Euro in May 2012.