Billy Flynn Guitar and Vocals
Rockin Johnny Burgin  Guitar and Vocals
Dave Katzman Guitar
Melvin Smith Bass
Melvin "Pookie Stix" Carlisle Drums
"Brother" John Kattke Keyboards and Vocal
and very Special Guests.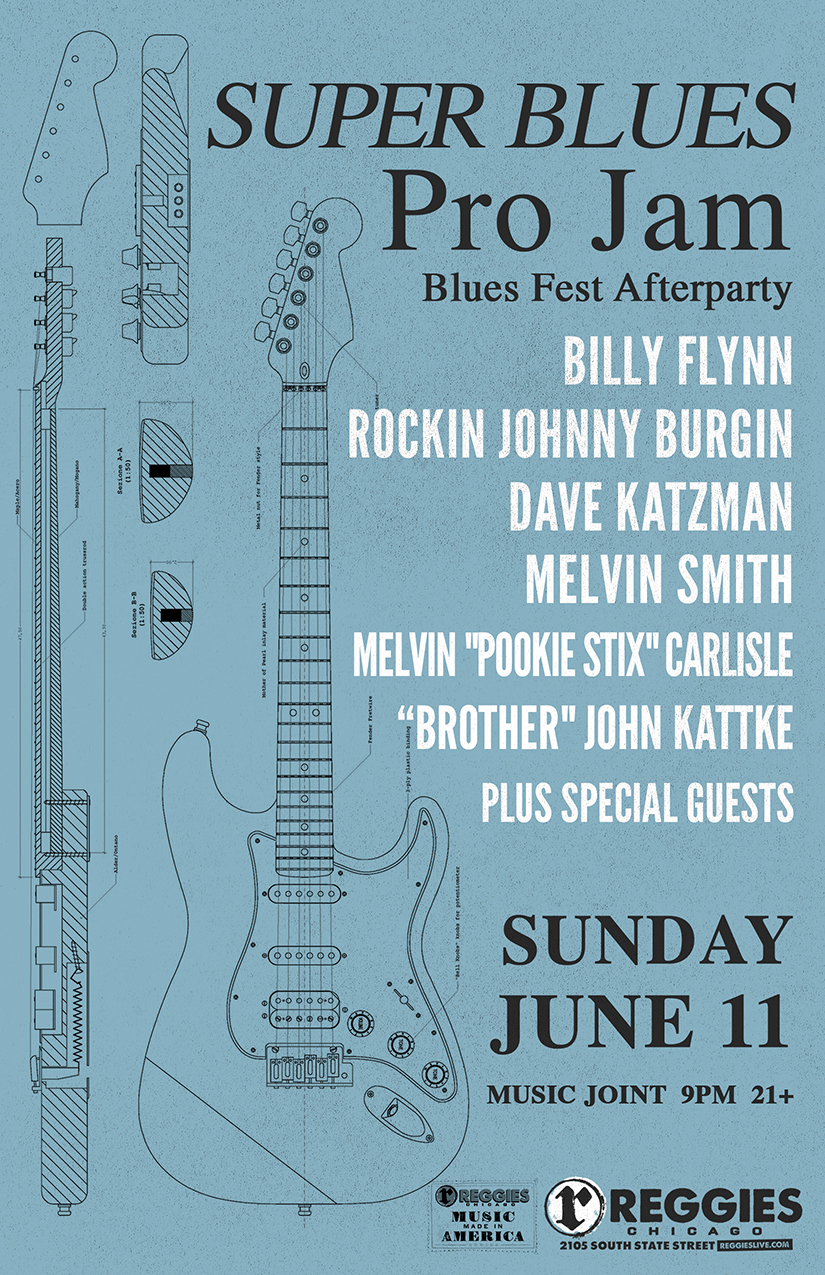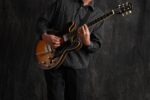 BILLY FLYNN
Billy Flynn is an American Chicago blues and electric blues guitarist, singer and songwriter.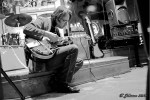 ROCKIN' JOHNNY
The Rockin' Johnny Band has been one of Chicago's most loved blues bands since 1995. Their music has been played on WXRT's "Local Anaesthetic" and "Blues Breakers" radio shows, the band has often been featured at The Chicago Blues Festival, and they regularly work in Chicagoland's best blues clubs such as Buddy Guy's Legends. Their CDs and live performances have drawn great reviews in Living Blues, The Chicago Sun Times, Pioneer Press, and National Public Radio's "848".
Guitarist Johnny Burgin came to Chicago from South Carolina to attend the University of Chicago, and earned the name "Rockin' Johnny" as a DJ at the college radio station WHPK. Rockin' Johnny began playing in the ghetto clubs of Chicago's West Side with blues singer Taildragger, and then began touring nationally as a sideman with former Howlin' Wolf drummer Sam Lay and blues piano legend Pinetop Perkins.
After learning from the masters, he put his own band together. Things started happening for the Rockin' Johnny Band after they took a Monday night residency at The Smoke Daddy in Chicago's Wicker Park neighborhood. Their original, energetic approach soon made them a strong local draw week after week and year after year, bringing in blues aficionados, every musician in town, and a younger crowd that normally didn't go to hear blues bands. The atmosphere the band generated was so electric, that Delmark Records offered them a contract after hearing just one set. This was especially exciting because the prestigious Chicago label is revered by blues aficionados as the home of Junior Wells and Johnny's idol, Magic Sam!
Since those days, they've regularly toured Europe, played festivals and headlined clubs all over the Midwest. The Rockin' Johnny Band has recorded five CDs including "Grim Reaper", released in April of 2012. A true "musician's musician",Rockin' Johnny has been one of Chicago's most in-demand blues session men since the 90s, contributing his incisive playing to over a dozen CDs by artists such as Billy Boy Arnold, Jimmy Burns, Tail Dragger, Little Arthur Duncan, Paul DeLay and many more.
The Rockin' Johnny Band plays vintage Chicago blues, but also is known for a wide repertoire which ventures into Stax style soul, swing, and lots of originals that are harder to classify. On stage, the band performs with spontaneity and fun, always showcasing fantastic guitar playing. Living Blues states: "top notch ensemble work, with power, drive, and a keen sense of dynamics". The band consists of true veterans: Rick Kreher (rhythm guitar) played rhythm guitar with Muddy Waters for four years; John Sefner (bass) was formerly with Studebaker John and Eddie Kirkland; and Steve Bass (drums) also plays with Chicago blues legend Eddy Clearwater.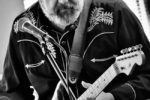 DAVE KATZMAN
Dave Katzman has been working in the Chicago Blues scene for over 4 decades. He has traveled the world as an Engineer, Guitarist, Producer and Road Manager. Working with artists like Albert Collins, Buddy Guy, Albert King, Otis Rush and many others.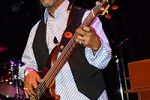 MELVIN SMITH
Melvin has been playing bass guitar for over 25 years in venues from small clubs to large international festivals. His career has had him performing in bands with such luminaries as Koko Taylor, Lurie Bell and Billy Branch. He has also performed with Carl Weathersby, Big James and the Chicago Playboys, Jimmy Johnson, Phil Guy, Lefty Dizz, Melvin Taylor, Charlie Love, Jimmy Burns and many others. Melvin is one of the most sought out bass men in the Chicago blues scene today.
MELVIN "POOKY STYX" CARLISLE
Mr. Melvin "Pooky Styx" Carlisle. Carlisle has an impeccable drumming reputation with over 25 years of professional experience in the music industry. Carlisle was born and raised on the Southside of Chicago. He has toured the world with musical legends ranging from KoKo Taylor, Toronzo Cannon, Sugar Blue, Carlos Johnson, Jimi Johnson, Chico Banks, Muddy Waters, Demetrius Taylor, and a host of others. In addition to being an internationally recognized drummer, he has endorsements with musical companies such as Ear Piece Technology, Slug, Sabian Cynbals, Vic Fifth Stick, and many more.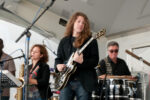 BROTHER JOHN KATTKE
Brother John has played with Eric Clapton, Steve Miller, the Black Crowes, and acquired ringing endorsements from many other musicians of renown. For example: Led Zeppelin vocalist Robert Plant had seen John play with Otis Rush at the Jazz Café in London. When Plant and Kattke met in person at the United Center in Chicago, Plant told Kattke: "You play a mean guitar!" George Benson came to the jam session that Kattke hosts at Buddy Guy's Legends in Chicago. After hearing the opening set that John played with his band, Benson told him: "You're fearless! I thought I was fearless! You're fearless!