DUE TO MY ONGOING MEDICAL SITUATION AND THE FACT THAT MY SUBDURAL HEMATOMA IS NOT.GETTING BETTER BUT JUST STAYING THE SAME AND THERE IS A GOOD CHANCE I WILL HAVE TO UNDERGO SURGERY TO DRAIN THE FLUID I HAVE NO CHOICE BUT TO CANCEL OUT SCUMFUC FAMILY TOUR COMPLETELY BUT WHEN I RECOVER I WILL DO MY BEST TO REBOOK THE TOUR AND IT WILL HAPPEN. ONCE AGAIN I AM EXTREMELY.SORRY TO ALL WHO HAVE WORKED SO HARD TO BOOK US BUT I AM JUST IN NO CONDITION TO TAKE ON SUCH A DEMANDING TOUR AND NEED TO THINK OF MY HEALTH FIRST AND FOR MOST.. I THANK YOU ALL FOR YOUR ONGOING SUPPORT AND UNDERSTANDING IT MEANS A LOT.SEEING ALL YOUR LOVE AND SUPPORT. SCUMFUC'S FOR LIFE.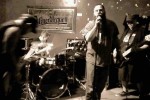 BUSBY DEATH CHAIR
Busby Death Chair's members have been in: Pure Bastard Extract (P.B.E.), Dreaded Apparatus, Fondle, Punch and Wipe, Full Strike Frenzy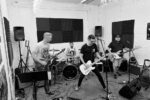 MODERN CROOKS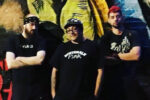 EDDY AND THE ARSONS
Infectiously catchy and energetic Punk Rock coming from Chicago's South Side. Eddy and the Arsons is a 3-piece Punk Rock band that formed 2017. The band started as a solo project by guitarist/vocalist Eddy Arson. Eddy was joined by fellow local musicians, Adam Pilarczyk on bass guitar in 2017, and after a few brief drummer lineup changes, Jake Boszman in 2018, to form as a live band. The band independently released their debut album, "Wall of Text" in 2017, followed by two singles, "When Your Past Comes Back" and "Where Does The Time Go" released in 2018. In 2019, the band released their EP, "Marked As Safe" and single "Bedbug" in 2020. In 2021, the band teamed up with Damaged Heart Records, and released 3 more singles, "It Will Get Better", "Skummy", and "Born Into War". The band is currently working on more new material.
Eddy Arson – Vocals, Guitar Adam Arson – Bass, Vocals Jake Arson – Drums