"We regret to announce we have decided to cancel the USA run ONLY of the Unique Legion tour for this year.
Whilst in tour in Europe, @tothegraveau had some unfortunate and urgent news regarding vocalist Dane, with him requiring an operation in Australia immediately. This has rendered the band out of action for several months.
Please join us in wishing Dane a super speedy recovery while the band prepare to release their new album.
Further to this, @visceraofficial have just had the untimely news the past week that their drummer Alex has decided to leave the band.
With only 6 weeks remaining, this leaves a considerable 2 band hole in the line up – it will be an impossible task to restructure the right package in time without interfering with our artists other touring plans.
HOWEVER- you WILL get new music from the lads in @vulvodyniaslam , along with another USA tour announcement for them in 2023, coming VERY soon.
To The Grave will return to the USA once Dane is back to full health.
@boundinfear + @osiah_ig are both beginning work on brand new albums and will make their way to the USA as soon as possible!
Refunds for all those who bought tickets can be obtained directly from purchase point.
Please note that the European Tour meanwhile remains UNAFFECTED!
Thank you all for you understanding."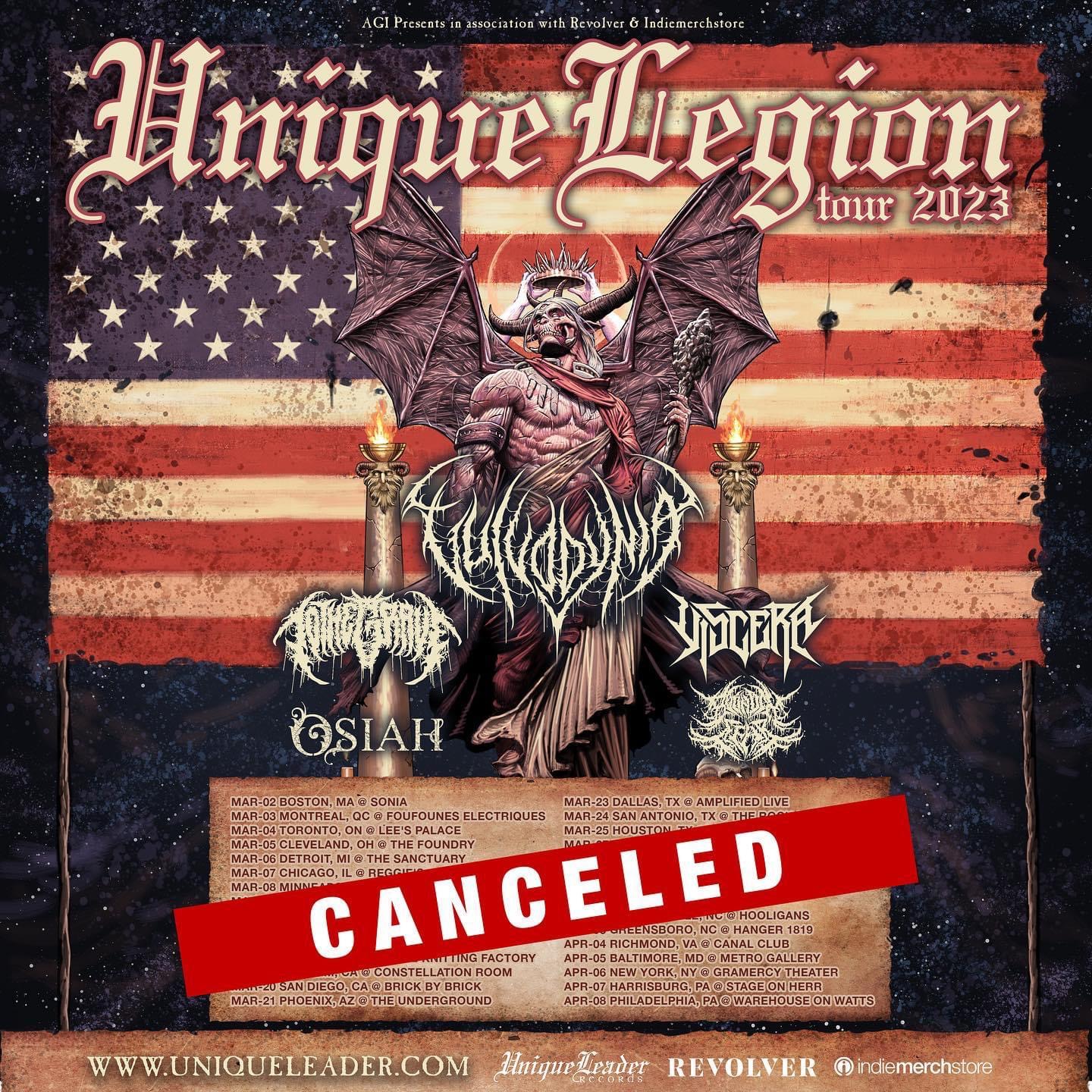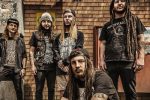 VULVODYNIA
Looking in a medical textbook will tell you the following: Vulvodynia is a chronic, severe vaginal pain with no identifiable cause. While the severe part is dead on, what a medical textbook won't tell you is that Vulvodynia is also the pioneer in what is rapidly becoming Africa's most eviscerating export: Slamming Brutal Death Metal. With lobotomizing, lurid riffs, skin-shredding blast beats and slams gruesome and filthy enough to induce septic shock, Vulvodynia are a lethal plague, spreading throughout the flesh of today's heavy music scene—infecting one set of ears at a time, and leaving no survivors.
Vulvodynia have toured Europe, USA, Australia, New Zealand, and played numerous festivals worldwide alongside some of the biggest names in metal crowning themselves as the KINGS OF AFRICAN METAL.
Duncan Bentley Vocals / Luke Haarhoff Guitar
Kris Xenopoulos Guitar / Lwandile Prusent Guitar
Chris Van Der Walt Bass / Thomas Hughes Drums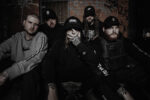 TO THE GRAVE
SYDNEY HORROR.
To The Grave are a deathcore band from Sydney, Australia.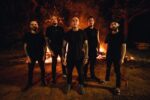 VISCERA
Featuring former members of Heart of a Coward, Sylosis, Martyr Defiled & Nervecell – VISCERA formed in early 2019 out of a love of all types of heavy music. 
 Debut single 'Lamb to the Slaughter' was released on Oct 29th 2019. Follow up singles 'Obsidian', 'Immersed in Ire' and 'Delilah' followed, resulting in multiple playlist additions across digital platforms. 
 Viscera's debut album 'Obsidian' was released 6th March 2020 via Unique Leader Records to critical acclaim. Touring followed with Decapitated, Despised Icon, Lorna Shore, Ingested, Oceano, Distant, Osiah and more. 
 The band dropped stand alone single 'Sungazer' in the Sunmer of 2022 as a precursor to Spring 2023, which sees the release of the band's sophomore album.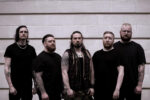 OSIAH
Hailing from the extreme music melting pot that is the North East of England, Osiah transcend the deathcore label with what could possibly be the most torturous barrage of filth the UK has produced in recent years. Crushingly intense breakdowns and deathly chops tread a familiar path, but jarringly detuned guitars, unpredictable tempo changes and vocals that range from wide-ranging pitched screams to commanding guttural bowel openers add an extra evil to the sound that cannot be put in words.
Osiah Released their first full-length album 'Terror Firma' in June 2016 via Siege Music. The album gained praise from Metal Hammer Magazine, Bloody-disgusting and many other prestigious publications, cementing the band as the hottest and heaviest band on the UK Deathcore scene.
The resulting work lead to the band signing to Unique Leader Recordsin 2018 and released their sophomore album "Kingdom of Lies" in 2019. Fast forward to 2021 and the band released their 3rd album "Loss". This record is the truest representation of Osiah to date. Loss is Osiah's darkest record to date, combining the monolithic misery of our debut record Terror Firma, with a more matured technicality first showcased in our sophomore; Kingdom of Lies. Featuring a new lineup; Loss will cater to those familiar with our aggression, and also allow new listeners to be shown a raw unfiltered version of who we are before they have an opportunity to witness our previous efforts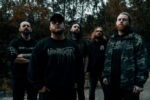 BOUND IN FEAR
Since their formation in 2016, Bound in Fear have been creating uncompromisingly heavy music and, in such a short time, have "crafted a niche for themselves among the ungodly heavy". Back with second album PENANCE, Bound in Fear show they are not here to take any prisoners.
With 2 EP's and a full length behind them, Bound in Fear aren't slowing down, preparing to release second full length PENANCE on October 15th 2021. It is a follow up to 2021 EP Eternal, and builds on the foundations laid by critically acclaimed 2019 debut album The Hand of Violence.
Line up: Vocals – Ben Mason Guitars – Ben Sutherland & Steven Hunt Bass – Keir Campbell Drums – Colin Bentham