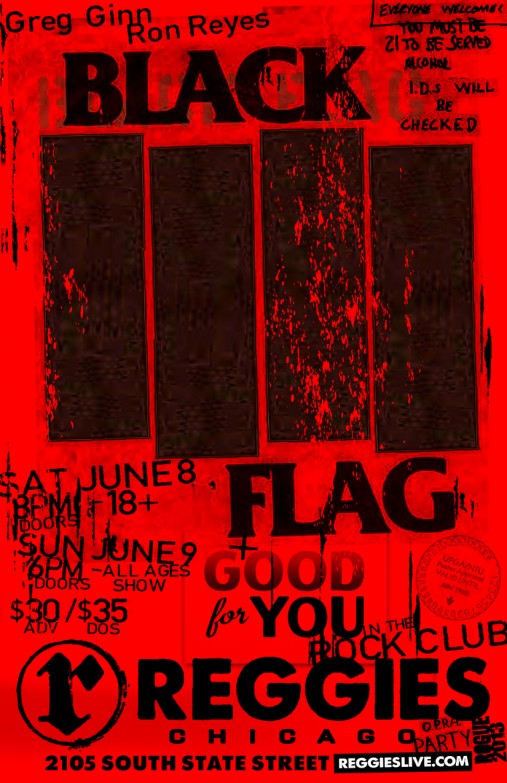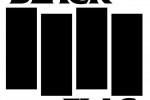 BLACK FLAG
(Greg Ginn, Ron Reyes, Gregory Moore, and Dale Nixon)
BLACK FLAG has reformed and is in the process of putting finishing touches on a new album with founder Greg Ginn on guitar, Ron Reyes on vocals, Gregory Moore on drums and Dale Nixon on bass.
The one constant member throughout the history of BLACK FLAG, Ginn — named one of Rolling Stone's "100 Greatest Guitarists Of All Time" — defined the west coast punk sound and the DIY ethos of punk rock. Greg Ginn also currently plays with Good For You and Greg Ginn And The Royal We.
Ron Reyes of Decline Of The Western Civilization fame was the BLACK FLAG vocalist from The Church / Jealous Again era. Reyes also currently plays guitar in Piggy.
Gregory Moore has played with Gone and BLACK FLAG (2003) and brings his relentless and driving drum style to the band.
Notorious for not touring, Dale Nixon never-the-less played bass on the My War album and is the author of iconic BLACK FLAG bass lines such as Jealous Again, Nervous Breakdown, Six Pack, TV Party, Revenge, Gimme Gimme Gimme etc… etc… While Dale has lent his skills to the new album, he is currently contractually obligated for a stint on Celebrity Rehab. Still, as he has always done in the past, he will continue to provide insight and spiritual guidance to the current bass player.
The seeds of this reformation were planted when Reyes invited Ginn to perform with him at his birthday party some two and half years ago. Needless to say — the party was a blast and the two vowed at that time to work on some songs together. The fruition of those efforts will culminate in the release of the new album later this year.
Far from being a one-time grab, this reformation has BLACK FLAG recording and touring extensively both in the US and abroad.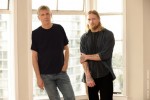 GOOD FOR YOU
On February 26, SST Records will release Life is Too Short to Not Hold a Grudge, the debut album from GOOD FOR YOU, the brand new band featuring influential guitarist and bandleader Greg Ginn and professional skateboarder and musician Mike Vallely (aka Mike V). Featuring eleven uniquely distinct high-energy rock songs blistered with themes of betrayal, regret, disillusionment, resolve, determination and independence propelled by Ginn's distinctive, stun-gun guitar, Life is Too Short to Not Hold a Grudge sets a new course for both musicians and delivers a strong statement of intent that begs to be heard.
Recorded at Ginn's Casa Destroy Studios in Taylor, TX, Life is Too Short to Not Hold a Grudge teams the singular guitarist — named as one of Rolling Stone's "100 Greatest Guitarists of All Time" — with the creative, aggressive Vallely for the first time since BLACK FLAG's 2003 reunion shows in Los Angeles where Mike V performed the entire My War album from start to finish with the world renowned punk rock band at the invitation of Ginn.
As the founder, guitarist and driving influence behind BLACK FLAG, Greg Ginn defined the west coast punk sound and the DIY ethos of punk rock. In many ways, Vallely is the perfect frontman to lead Ginn's first hard rock band since the dissolution of BLACK FLAG. A strong-willed, determined, intense and inspirational figure, Vallely (owner and creative mind behind Elephant Brand Skateboards) has earned a devoted, worldwide following over the course of his two decade plus career as a professional skateboarder and years fronting the bands Mike V and The Rats and Revolution Mother. The vocalist first saw BLACK FLAG perform at City Gardens in Trenton, New Jersey in 1984, crediting it as a life changing experience. Greg and Mike first met in Long Beach, CA in May 2003 when Mike V And The Rats started a supporting run of shows for Greg that would eventually lead to the guest vocal spot at the BLACK FLAG reunion shows. A friendship was formed and the two have kept in touch through the years with the intention of collaborating on new music at some point. In February 2012, Ginn presented Vallely with new music and the singer spent the next five months filling notebooks with lyrics. The duo's intense songwriting chemistry generated both a solid set of dynamic songs that would become Life Is Too Short To Not Hold A Grudge and the formation of an entirely new band: GOOD FOR YOU. Life Is Too Short… features the traits of a benchmark release. Rarely is rock so pure and hard-hitting.
"Greg and I had been talking about writing music together for many years, comments Vallely. "There was no real plan in place to "team up" or anything like that. It was more so just about the music. Creatively and artistically we just found a common road and from that came an output that became this new music and this new record."
"Working with Greg really opened me up as a writer and vocalist, he continues. "His approach to writing, recording and producing was so free that for the first time I feel I was really able to honestly express myself in the studio."
"I can't wait to deliver these songs live with Mike," said Ginn. "I have the feeling that things are going to get wild."