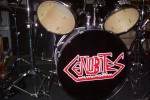 CENOBITES
Cenobites have been playin off and on since 1995, but did not start playin shows til late 2007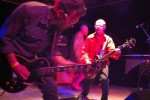 DEPRAVOS DE LA MOUR
We are a chicago rock and roll garage punk sleaze band. We like charles bukowski and bad things. We are unpleasant, uncouth, lewd and nuts. We got an odor of alley and cigarette butts.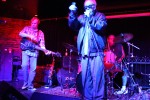 SILVER ABUSE
Silver Abuse was one of the original punk bands in Chicago, forming in 1977. There were various versions of Silver Abuse, but the original version starred lifetime member Bill Meehan, along with Santiago Durango and Camilo Gonzalez, early members of Naked Raygun.
Silver Abuse was featured prominently in the documentary "You Weren't There" which tells the story of Chicago punk and hardcore from '77 to '84. From Miles Raymer's review in the Chicago Reader-"In the late 70s just a few bands made up the scene, but among them were Silver Abuse, who wore tinfoil and played aggressively dissonant guitar skree… "Silver Abuse, I have some demos that they did in like '82 that sound completely relevant today," Losurdo says. "It's a little more no wave, and they have girl vocals and really off-kilter rhythms and sax."
Silver Abuse also appeared on the legendary "Busted at Oz " compilation in 83 (recently reissued by Pernament Records) and in 1984 released a seven inch EP "The Fall from Grace" which is now a highly prized collector's item.
The band returned to the stage in December of 2007 for a New Years Show at a jampacked Lucky Gator Loft and has since been playing  at venues throughout  Chicago including the Empty Bottle, Double Door,Township, the Burlington and the Cobra Lounge.
Early 2014 will see the release of an album of new material as well as an EP of tracks from the "Fall from Grace sessions on Alona's Dream Records.