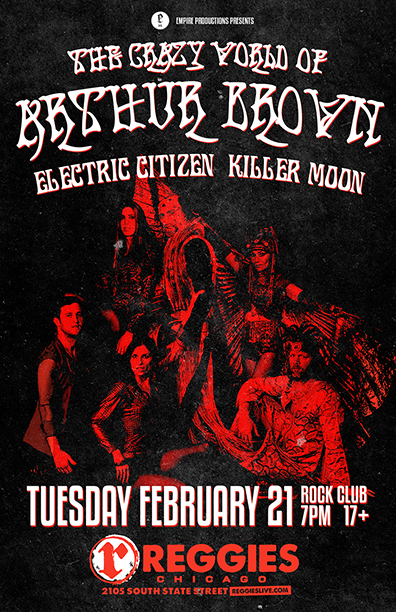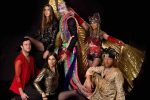 THE CRAZY WORLD OF ARTHUR BROWN
Arthur Brown first came to prominence in swinging London in 1967, after spending some time on the Paris underground scene Arthur was quickly signed to Track Records at the instruction of The Who's Pete Townshend and released the single Devils Grip, regarded by some as the record that gave the birth of Heavy Metal.
Arthur is best thought of for his 1968 Number one single Fire that still gets regular airplay all over the world and has been covered by the likes of Ozzy Osbourne, Die Krupps, The Prodigy and The Who.
Arthur's next band Kingdom Come performed as the main act at the first filmed Glastonbury Festival in 1971 and in 1973 Kingdom Come was the first band to release an album using a Drum Machine.
Artists such as Peter Gabriel, Alice Cooper and Bruce Dickenson site Arthur Brown as a major influence on them and in this Arthur's fifth decade in music the fire is far from out.
Arthur's most recent album Voices Of Love had major critical acclaim and Arthur received the Classic Rock magazine showman of the year award.
Arthur Brown Time lines
# 1965 – Released the 'You Don't Know' single as a flexi for Reading university
# 1966 – Arthur was a musician in Paris formed the Arthur Brown Set and scored some of the soundtrack to the Peter Fonda film The Game is Over.
# 1967 – the Crazy World Of Arthur Brown is formed Arthur released the single Devils grip, was a resident at the UFO and Middle Earth clubs sharing the bill with Pink Floyd, Soft Machine and Fairport Convention to name a few as well being one of the stars of the 14 Hour Technicolor Dream at Alexandra Palace.
# 1968 – Released Debut album and No1 single Fire Arthur was a world wide superstar.
# 1969 – The Crazy World split, Arthur turns down the offer of being the lead singer for a new band being put together by Jimi Hendrix
# 1970 – Kingdome Come form in the Dorset town of Puddletown, the band is initially called Puddletown Express.
# 1971 – Kingdome Come release debut album Galactic Zoo Dossier and headline Glastonbury filmed by Nick Rogue for a cinematic film Glastonbury Fayre
# 1972 – Second Kingdome Come album released
# 1973 – Kingdome Come makes history with the album Journey first rock album to use a drum machine.
# 1976 – Chisholm in my Bosom Arthur's first solo album with Andy Dalby, Phil Curtis and Vincent Crane all performing.
# 1977 – Dance Arthur's second album with a different band on every track, the album was launched at Ronnie Scotts Jazz club, that night Simon Drake then a rep for Decca also started his career as a magician.
# 1978 – Arthur tours with Klaus Schulz and records the Dune and Klaus Schulz Live album.
# 1979 – Arthur re united with Vincent Crane record the Faster than the Speed of Light album. Arthur re locates to Texas.
# 1981 – Arthur goes electronic with Requiem and Speak No Tech and the single Busha Busha is a hit on the new MTV television network.
# 1989 – Brown Black and Blue Arthur makes a rock and roll album with his good friend Jimmy Carl Black of the Mothers of Invention.
# 1993 – Arthur tours the UK for the first time in years to a fantastic response releases the album Order From Chaos recorded live at the Marquee.
# 1998/99 – Arthur starts touring with an acoustic band for the first time inc a major UK tour with Tim Rose. http://www.arthurbrownmusic.com launches.
# 2000 – Arthur records the Tantric Lover album regarded by many as his best work in years, Arthur also returned to the Glastonbury Festival
# 2002 – Arthur tours with Robert Plant to great reaction, Arthur also becomes the lead singer for Hawkwind for 2 tours.
# 2005 – Arthur was recognized for his lifetimes work by a special show headlining the Astoria in London. This concert saw Arthur re united with Kingdom Come as well as playing an acoustic set and performing the Fire suite in full. From this Arthur earned the showman of the year award from Classic Rock magazine.
# 2006 – Arthur tours the USA and Canada
# 2008 – Arthur Brown and Nick Pynn release the Voices of Love album
# 2009 – Arthur plays shows with Mark Jackson of White Noise and tours the UK with a new band opening for Hawkwind at many large venues.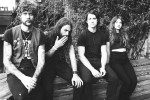 ELECTRIC CITIZEN
Formed just over a year ago by guitarist Ross Dolan, vocalist Laura Dolan, Nick Vogelpohl (bass) and Nate Wagner (drums) Electric Citizen have had a busy year turning heads and ears onto their dark and esoteric style of haunting and unhallowed '60s West Coast rock, and decidedly British-influenced heavy psychedelia.
Like records by similarly late 60s/early '70s-possessed anti-modernists Blood Ceremony, Wolf People and Uncle Acid and the Deadbeats, their debut album "Sateen" provides a blueprint for long term appreciation. Recorded and produced by fellow Grammy Winning Ohioan and local stalwart Brian Olive (The Greenhornes, Soledad Brothers) the album draws on sounds synonymous with the roots of early '70s proto-metal from groups such as Sir Lord Baltimore, Pentagram, and the daemonic spirit of Amon Düül. Not to mention the comparisons it draws with the rock 'n' roll ceremony of forgotten acts like Frumpy and Shocking Blue when held up against the spellbinding light of high priestess Laura Dolan's enigmatic voice and live presence.
From the cloudy and mystical swirl of 'Hawk Nightingale' to the shades of folk metal on 'Shallow Water', Electric Citizen pitch scholarly interpretations of the old guard in new and electrifying ways and not always from the vaults of forgotten masters. Take new single 'Light Years Beyond' with it's swirling and ferocious concoction of guitars and drums or 'Magnetic Man' with its unabashed nod to Heart and classic Black Sabbath. Just a handful of many songs here that showcases just how good the band is at dropping sonic needles into the grooves of records that all serious rock 'n' roll lovers hold dear.
Electric Citizen have toured with Fu Manchu, The Budos Band and Wolfmother and have supported act such as Joan Jett, The Cult, The Sword, Rival Sons, Dead Meadow, Foxy Shazam, and Buffalo Killers. The artwork for their debut album, which was released July 1, 2014 on Riding Easy Records, was created by acclaimed artist Neil Krug who has worked with The Horrors, Lana Del Ray and Boards Of Canada.
Electric Citizen has been featured on VICE's Noisey, Premier Guitar, Classic Rock Magazine, MetalHammer, Thrasher, Roadburn, CVLT Nation, Decibel Magazine, Trasworld Skateboarding, ArtRocker Magazine, AtlSounds, and more.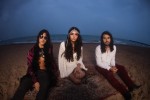 KILLER MOON
Killer Moon was formed by Jesse Garza, Alejandro Santoyo and Amaris Aviles in the summer of 2007 in Chicago. The group honed in on their sound for about a year before deciding to take their talents to South Florida. Garza, Santoyo and Aviles were in Miami for 2 years playing shows and living under the same roof until the two decided to move back to the Chicago on Thanksgiving in 2010.
Upon their return to the Windy City, Killer Moon started playing shows at a break neck pace. The trio has recently started touring in the Midwest and continues to draw increasingly larger crowds in Chicago.
Killer Moon's new album was recorded at Semaphore Studios and Electrical Audio with producer and musical wizard Sanford Parker. Self Titled Album was released May 2012 and can be purchased wherever available.Influences: the Doors, Black Sabbath, OM, Boris, Jimi Hendrix, Led Zeppelin
$45 Above Stage
includes access to Above Stage balcony
$65 Red Chair
includes reserved plush seat in balcony across from stage