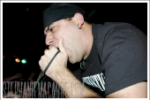 DEATH BY STEREO
Since their inception in 1998, DEATH BY STEREO has been balancing consciousness and chaos with their unique genre-bending amalgam of hardcore, metal and punk. Previously, the band released their last five studio records via Epitaph, Indecision and Serjical Strike Records. DBS, as they are known by many of their loyal followers, have assembled a worldwide fan base built upon a seemingly endless international tour schedule, with enough passport stamps to make many of their contemporaries jealous. They have shared the stage many times over with the likes of Slipknot, AFI, Serj Tankian, Avenged Sevenfold, and Rise Against, just to name a few. They have headlined some of the biggest and best festivals around the world (Germany's "With Full Force", Belgium's "Grozerock", U.S.'s "Warped Tour" and Colombia's "Rock Al Parque"). Having toured in over 20 countries is an accomplishment few bands of any stature can lay claim to.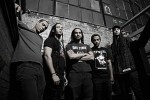 LA ARMADA
During the early and mid-2000′s La Armada established themselves as one of the most influential bands in the Hardcore/Punk scene in their native Dominican Republic where they played countless shows and notched 2 releases under their belt. In 2007, after making a tough but groundbreaking decision to leave a land where even DIY culture is a commodity and very limited platforms existed to present their music, the band decided to relocate to Chicago.
After becoming immersed in the city's infamous music scene and touring extensively around the country, the band became exposed to distinct subgenres including grindcore, powerviolence, crust-punk and traditional hardcore & metal sounds. These influences, fused with the band's native tendencies towards the intricate percussion lines present in Latin music, have developed into their first proper release, a self-titled 11 song vinyl, which delivers crushing bursts of what the band has affectionately coined "Latino Hardcore Fury". Released in late March 2012 on behalf of the Memphis, TN label Fat Sandwich Records this album successfully manages to possess the brutality and energy that bleeds out of their live shows night after night. Recorded, mixed and mastered by longtime friend and collaborator, Juan Carlos "Kanky" Lora (Marc Rizzo, Kingdom of Sorrow, Cavalera conspiracy, Jasta), the record will have you raising your eyebrows and fists with its aggressive riffs, intricate song structures, piercing vocals, and driving rhythm section.
Backing up their musical delivery are sharp witted lyrics that touch on a variety of pertinent social issues such as immigration rights, globalization, and class struggle in general, the band takes on a cynical perspective on governmental authority and phoney corporate "first world" activism. Along with many of their Chicago predecessors La Armada is unwilling to compromise their native Spanish language in their music; the band addresses this usually recognized linguistic barrier by taking their live set on the road. With an extensive touring background that has taken them to every corner of the US, Puerto Rico and the Dominican Republic; and now with an album that truly personifies the band's sound, La Armada will now be touring full time visiting the rest of Latin America, Mexico, Canada and Europe.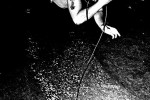 THIEVES
Hardcore from Chicago. Vented aggression.