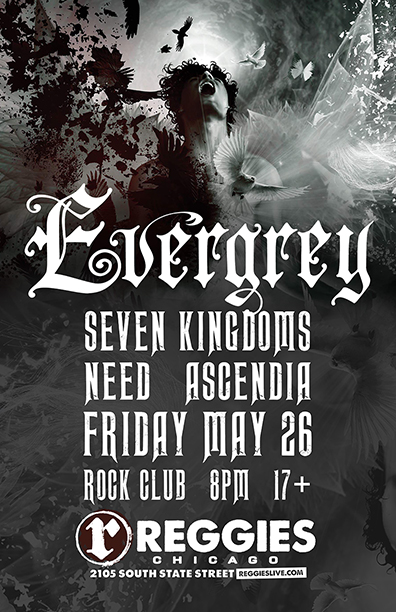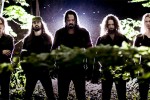 EVERGREY
Evergrey is a progressive metal band from Gothenburg, Sweden. The band was founded in 1995 and released its debut album, The Dark Discovery, in 1998. After a minor hiatus the band returns with its ninth album Hymns for the Broken on 26/30 September 2014.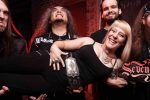 SEVEN KINGDOMS
SEVEN KINGDOMS was formed in Deland, FL in 2007. The band began to play shows, went through all the usual "underground band" ups-and-down; members came and went; numerous local shows; an independently released debut album; etc. Finally, once they had a more solidified lineup, the band signed a management/booking deal with Intromental Worldwide in 2009, which lead to a record deal with Nightmare Records.
Shortly after the release of their Nightmare Records debut "Seven Kingdoms" (their second release, but first featuring female vocalist Sabrina Valentine) SEVEN KINGDOMS played the opening party at the very prestigious ProgPower USA and was then handpicked by the legendary German power metal band, Blind Guardian, to open their 2010 North American tour, which saw the band playing in front of tens of thousands of metal fans throughout USA and Canada. This tour gained the band exponential amounts of exposure, to their direct market. SEVEN KINGDOMS went on to play several one off's and smaller tours in 2011 ending with the "Uniting The Powers Of Metal" tour alongside other uprising power metal acts such as Artizan, Creation's End and Widow. The band capped off 2011 signing endorsement deals with Engl Amplification and Warwick Basses / Amps.
The First show of 2012 came with a slot on the 70,000 Tons Of Metal Preparty, playing to a packed house at the Grand Central venue in Miami. In May of 2012 the band entered MorrisoundStudios to creating a record powerful enough to hang with the best in metal. With legendary producer Jim Morris (Iced Earth, Obituary, JOP, Jag Panzer etc) at the helm and much more experience gained, SEVEN KINGDOMS created their next melodic power thrash opus.
Upon completion of the recording of their new album, SEVEN KINGDOMS signed an extension of their deal with Nightmare Records. The Music Video for 'After The Fall' premiered at ProgPower USA on the big screen, directly before the set of Symphony X to a captive crowd. The video went viral for a short period of time, gaining over 400,000+ views on Youtube. The record, titled "The Fire is Mine", was unleashed on October 9, 2012.
"The Fire is Mine", was the third offering from Florida's SEVEN KINGDOMS, showing a great solidification in their sound and direction; they amped up every aspect from song writing, vocals to production and live performance. This one goes to eleven on all counts – including the number of tracks! The vocals and beautiful crystalline melodies of Sabrina Valentine are uniquely set in a furious power/thrash metal attack, blended with epic choirs and the occasional beer-chanting of the men of SEVEN KINGDOMS.
After the release of 'The Fire Is Mine", SEVEN KINGDOMS hosted their own CD release party at the Deland Rock & Metal Festival, and then played a few supporting shows in Florida with Queensryche, Jon Oliva's Pain and also Firewind. The band was then added to the massive Stratovarius and Amaranthe European tour in 2013, where they were able to break into the European market and play in front of tens of thousands of hungry fans. This tour also included a slot on the prestigious PPM Festival in Belgium where they shared the stage alongside bands like Avantasia, Queensryche, Behemoth, Helloween and Gamma Ray. Upon the return home, SEVEN KINGDOMS set out on a short east coast Canadian and USA Headlining run, their first non-supporting tour. They closed 2013 off with a performance at the Deland Rock & Metal Festival along side Circle II Circle. SEVEN KINGDOMS is headed out for their final European Tour in support of 'The Fire Is Mine' in May/June of 2014. They will be touring along side their friends in the Danish band, Manticora. SEVEN KINGDOMS then took some time for writing, taking select dates with repeat appearances at the DeLand Rock & Metal Festival and openings for Sonata Arctica and Doro in their home state of Florida.
A band started for fun, found that hard work and dedication to their craft has major pay offs… SEVEN KINGDOMS is carving its own path in metal history creating something genuinely unique, yet undeniably Power Metal!
Line-Up:
Sabrina Cruz – Vocals
Camden Cruz – Guitars
Kevin Byrd – Guitars
Aaron Sluss – Bass
Keith Byrd – Drums
Discography:
2007: Brothers Of The Night
2009: Seven Kingdoms
2012: The Fire Is Mine
Label:
Nightmare Records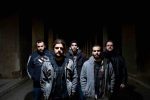 NEED
Jon V. – Vocals
Ravaya – Guitars
Anthony – Keyboards
Victor – Bass
Stelios – Drums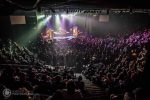 ASCENDIA
Beautiful but brutal. Chaotic but calculated. It's the balance between these seemingly opposing foils that Toronto's Ascendia so perfectly strikes with their beastly brand of symphonic metal. Their mammoth sound spans the Atlantic, uniting elements of North American metal with a foundation rooted in the symphonic tradition of European metal, and is poised to appeal to even the most discerning genre purists.
The five-piece – currently comprised of vocalist Nick Sakal, guitarist/vocalist John Lov, drummer Billy Lov, bassist John Abanador, and keyboardist Maestro – has been amassing serious attention and accolades from Canada's heavy music community over the past couple of years. They earned a slot on the bill for the Toronto stop of the 2013 Rockstar Mayhem Festival alongside heavyweight headliners like Mastodon, Amon Amarth, Children of Bodom, and Five Finger Death Punch. They've been tapped to support the likes of Into Eternity and Single Bullet Theory, and now, they're set to capitalize on the buzz with their first studio album, expected later in 2014.
Brothers John and Billy have been performing together since their early teens, inspired by the sludgy sounds of '70s and '80s metal pioneers like Sabbath, Dio, and Rainbow. Soon after, their tastes shifted to more modern masters of the genre – "stuff like Nightwish, Kamelot, Killswitch Engage, and In Flames," Billy explains.
One day, the two were walking to the music store with their longtime friend, Nick, singing a song. As John recalls, "All of a sudden, Nick let out a huge guttural scream that stopped us dead in our tracks." As it turned out, he had quite the voice – swaying from epic, operatic singing and raucous, raging screams with ease. The seeds of Ascendia had been planted, and began to take root as the band performed metal covers of classic pop songs like "Maniac" and "Careless Whisper" for talent shows and battles of the bands.
"At that point, we knew we wanted to get serious, so we had to take a chance and start writing something else," John explains. Their first composition was actually an acoustic ballad, "Starlit Eyes," which remains a fan favourite and will be included as the bonus track on the upcoming record. Next, though, came a number of calamitous metal compositions – riotous down-tuned riffs and carefully orchestrated string sections anchored by machine gun rhythmic blasts and crowned by Sakal's dynamic vocal prowess.
Part way into 2012, Ascendia put their writing on hold to focus on their live shows, leaving everything they had on sweat-soaked dive bar stages and building a following brick-by-brick with their gripping, airtight sets.
In 2013, they decided it was time to finally satisfy their growing fan base and deliver an album. "It's been a very slow but calculated process," John says. "We've taken baby steps the whole way, and I think that's helped us develop as musicians and develop our sound."
That sound, virtually unparalleled in Canada at this point, will be showcased in spades on the band's first collection, bringing the urgency of their live shows to your speakers. The lyrics are in-depth and metaphorical, cryptically and poetically exploring themes of fate, deceit, and the human condition and culminating in a conceptual four-song series that tells the story of a young man and his spiritual Guardian.
Until the album drops, though, Ascendia will continue their quest to conquer the North American metal map with their innovative concoction of European-inspired symphonic sounds. "We always knew there was something here," Billy says bluntly, "and now we're ready to start the takeover."
You've been warned.
$40 VIP Tickets
Includes early entry | meet & greet at 7:15pm