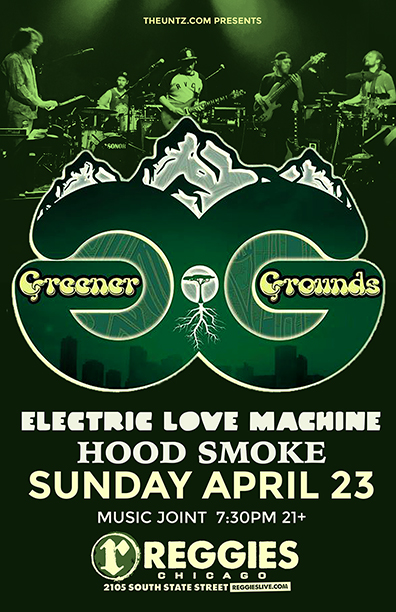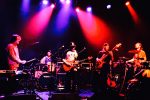 GREENER GROUNDS
Greener Grounds is a four piece jamtronica band based out of Denver, CO. They quickly gained momentum and secured a name for themselves in the highly competitiv
e jam band scene landing performances at Backwoods Music Festival, Resonance Music Festival, Highberry Music Festival, SONIC BLOOM, Luna Light Music Festival, ARISE Music Festival, Paradise, and many more. Inspired by the likes of Lotus, STS9, the Disco Biscuits, Phish, and Umphrey's Mcgee, they blend many styles including psychedelic funk, rock, trance fusion, and break beats. Their eclectic sound continues to take crowds by surprise ensuring a lively, danceable, and energetic vibe where ever the road takes them.

Greener Grounds features Joe Shur on guitar, Jeremy McDonough on keys/synth, Jay Rieder on bass, and AJ Gillman on drums.

Keeping themselves to a high standard, Greener Grounds holds a passion, collective consciousness, environmental sustainability with a positive outlook on life to inspire the world which is all expressed through their music. Constantly evolving in their sound, performance, and presence, they have caught the attention of sponsors, stages, and festivals all around the United States as well as landing performances with Perpetual Groove, Kyle Hollngsworth Band, The Main Squeeze, Kung Fu, Consider the Source, Zoogma, The Magic Beans, YAMN, the Mantras, and many more. Their "Practice makes perfect" mentality is visible in their connection to each other and their fans at each show.

Last year's release of their first EP, Photosynthesis made headlines in the music world and was quoted as "Jamtronica Gold," by The Untz, setting them up for a bright future in the studio world. Greener Grounds followed their debut EP with a full length album titled Momentous, that was successfully funded by through their Kickstarter Campaign. Momentous was released on July 8, 2016 and became a groundbreaking force for both the jam band and livetronica music scenes. Please visit: www.GreenerGroundsMusic.com for the latest updates, tour dates, free downloads, videos, merchandise, and more!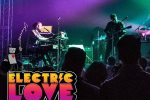 ELECTRIC LOVE MACHINE
Electric Love Machine (ELM) is best described as an outer space adventure through sound, infused with doses of electronic funk, traditional Americana and improvisational jazz, and whose foundation is built on a sense of community. Their first full-length album, XenofoneX, touches upon the aural sense, and travels through one's heart, makes a stop in the brain, all while travelling across the cosmic plane.
ELM is part of a dedicated and diverse network of Live performance artists, acrobats, painters, graphic artists, musicians, fashion designers, and music lovers from in and around the Baltimore area who support each other and often perform together to make each show a profoundly unique experience.
Flying through their (fair-priced) interstellar journey, their tribe supports ELM not just in their hometown of Baltimore, MD, but also throughout the band's multiple engagements spanning the Northeast, and future markets in the Southeast, Midwest, West, the Moon, and potentially our neighboring Andromeda Galaxy (dependent on contract negotiations).
In addition to the many hallowed halls ELM has had the extreme pleasure of playing, they have gratefully performed with jam monsters EOTO, Papadosio, Dopapod, TAUK, Turkuaz, Electron, and PPPP, and have played multiple sets at such fine festivals as All Good Music Festival, The Mad Tea Party, Moonrise, Camp Barefoot, The Werk Out, Domefest, and Lunar Bay.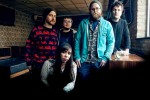 HOOD SMOKE
"Bryan Doherty bends the bass into something rarely heard, but entirely worth the price of admission." So says All Music Guide, and they're right: Much like Doherty's brilliant bass playing, his band Hood Smoke blends soul and pop a la Rufus, David Byrne and The Band. Hood Smoke's line-up reads like a "who's who" of Chicago music masters, all of whom have played with everyone from Quincy Jones to Koko Taylor to Steve Coleman and Howard Levy. Rising star Sarah Marie Young's voice will no doubt turn heads with its uncanny combination of grit and precision. Her voice and her bandmates' undeniable chops make Hood Smoke's album, Laid Up In Ordinary, a must-hear release of 2013.