It's an all metal night of WOWO with host Tim Mix and metal legends Metal Church co-hosting! Sign up now to RSVP your slot and bring in some records to play!
RSVP to rsvpreggies@gmail.com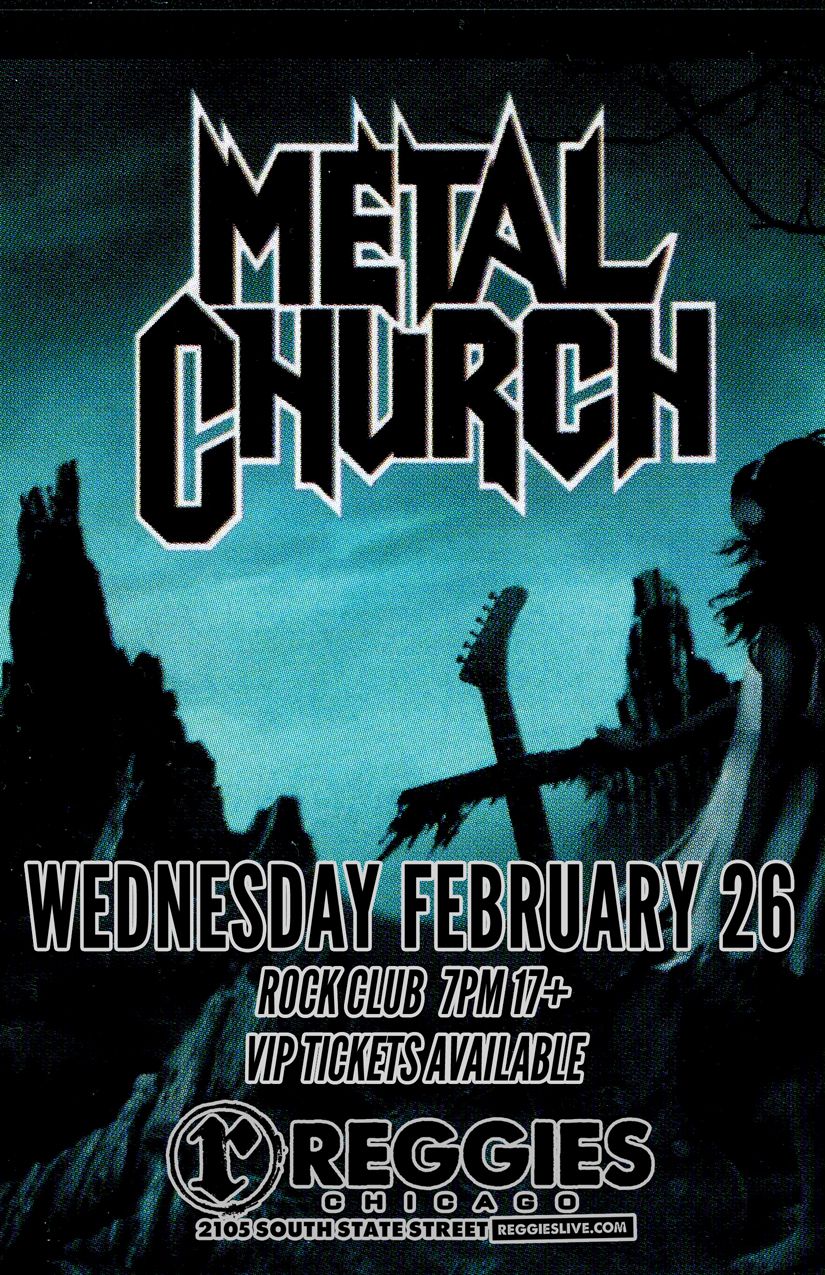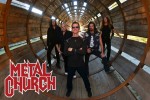 METAL CHURCH
Born out of the West Coast Metal scene of the 80's, Metal Church quickly became one of the standout talents of the genre. After signing a deal with Elektra records, they released two critically acclaimed albums. Their self-titled release "Metal Church" postured the band as one of the pioneers of the thrash/metal scene. The All Music Guide had this to say about the debut: "The band's incredibly tight musicianship is a highlight all on it's own. This album remains an overlooked classic of straight-ahead American-bred heavy metal." With the heavy metal scene starting to rise in the U.S., Metal Church set out on a very successful tour with label mates Metallica.
Next came "The Dark," the fury of its opening track, "Ton of Bricks" was championed as one of the premier metal releases of the 80's. The Dark also led to one of a few lineup changes with the departure of vocalist David Wayne. However, more success was yet to come. With the addition of former Heretic vocalist Mike Howe, and Metallica guitar tech extraordinaire John Marshall, the riffing became heavier and the subject matter deeper. They tackled political and social issues of the day with the releases of "Blessing In Disguise" and "The Human Factor." At a time when heavy metal bands moved from the underground and became part of the hair band/pop fad, Metal Church stayed true to their roots.
During the mid 90's, the members of Metal Church headed in their own directions. Kurdt Vanderhoof worked on his namesake project, Vanderhoof, while Kirk Arrington was playing on various sessions including a recording with Sir Mix-A-Lot. 1999 led to a well-received reunion of the original Metal Church lineup with the release of "Masterpeace". The band went back to their classic sound and played several festivals overseas.
2004 saw them back with a new vocalist, whose style has been described as "Rob Halford meets Dio", as well as Jay Reynolds (Malice) on guitar and Steve Unger on bass. With a new record "The Weight of the World" and some new blood, heavy metal legends Metal Church picked up where their aptly titled last release "Masterpeace" left off.
In 2006, twenty years after their cult album "The Dark", Metal Church presented their brand new release, "A Light In The Dark", forging a creative arch that skillfully links the band's past with the present. Ten new tracks, (plus a new version of the classic "Watch The Children Pray", a tribute to original frontman David Wayne), document the development of a band that, despite all innovation, has never denied it's typical trademarks. That lineup consisted of Kurdt Vanderhoof, Ronny Munroe, Jay Reynolds, Steve Unger and new addition Jeff Plate on drums. "Jeff is an incredibly dynamic and professional drummer," Vanderhoof points out. "He has propelled us to a musical level that surprised even ourselves." Plate has replaced Kirk Arrington, who left the group for health reasons, and proves a real stroke of luck on "A Light In The Dark".
In 2008, guitarist Jay Reynolds was replaced by Rottweiler guitar player Rick Van Zandt. This Present Wasteland, Metal Church's ninth release, is a return to their roots and contains some of their strongest material to date.
In 2013 the band released the highly successful "Generation Nothing" but by 2014 singer Ronny Munroe had left the band to pursue a solo career with his girlfriend.
In 2014 founding guitarist Kurdt Vanderhoof convinced Mike to rejoin Metal Church. "Sometimes I still can't believe it myself, no one would have ever thought Mike would return after his departure almost 2 decades ago" says guitarist and founding member Kurdt Vanderhoof. "At first I struggled with the decision to come back, but after hearing the riffs that Kurdt was writing, I just couldn't resist, the music called to me and I wanted to be part of it!" says Mike.
Mike Howe originally joined Metal Church in the late 80's and released 3 albums with the band: "The Human Factor", "Blessing In Disguise" and "Hanging in the Balance". Mike was also the face of group's popular music videos "Date With Poverty" and "Badlands" that aired during MTV's heyday.
"Mike's voice sounds the same as it did 2 decades ago when we were writing "The Human Factor" and the band is about as tight as you can possibly get!" says Kurdt.
Recorded in the spring & summer of 2015 at Kurdt's studio in Aberdeen, Washington, and co-produced by Chris "The Wizard" Collier, Metal Church "XI" not only combines all the same musical elements that made the Mike Howe era albums so great, but also adds in a modern approach to the recording process which takes this offering to the next level!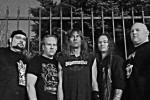 WRATH
The original WRATH from Chicago-land!!!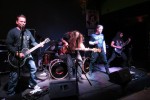 SCREAMKING
Melodic,aggressive heavy metal music
IRONFINGER
When the IRONFINGER pokes you, you will step back at first. Immediately after, you will step forward to accept the challenge and take a better listen at exactly what the FINGER is telling you. IRONFINGER will blast you to the core with its direct assault on the senses. IRONFINGER is hard-driving rock, chock full of relentless guitar riffs and jagged instrumental and vocal melodies.
P.K. Ripper, guitarist of Chicago progressive metal legends Slauter Xstroyes, assembled IRONFINGER along with guitarist Jerry Buczko and bassist Bill Dixon. Their intent is to burn down an audience as if a scorching 85 mile-an-hour wind of fire were charging from the stage. Their front line of blistering guitar runs are precise yet unpredictable, serving only as a full-throttle thrust into one of their many blasting groove-heavy rhythms. Drummer John Ashe antagonistically encourages them to forge forward with his heavy-handed slamming, pushing and pulling without remorse. With the addition of vocalist Fred Morg, IRONFINGER stretches melodies up and over the entire machine, as well as weaving a melodic thread through the counterpoint. Their lyrics, bringing insight to a world losing touch with its human element, are made more meaningful when the IRONFINGER audio assault pushes it forward.
IRONFINGER's sound is derived from its members' varied backgrounds. Each members is a seasoned veteran of the hard rock music scene, having merged together from different corners of Chicago's rock scene. Whether it be Rock, Punk/Pop, or Metal; and the interaction is still seamless and honest without sounding like a dysfunctional melting pot. IT JUST ROCKS.
The FINGER is on the trigger, and its shooting will be rapid and focused. Every IRONFINGER live show wins over its audience, and their soon-to-be-released debut will do the same in 2014. With its seemingly endless arsenal of musical ideas and conquered goals, IRONFINGER WILL POKE AT YOU.
$40 VIP Tickets
includes early entry, poster and Meet & Greet.