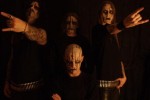 PRIMORDIAL
Primordial is a Pagan Folk Black Metal band founded in 1987 from County Dublin. They play a unique style of Pagan an History metal, which can best be described as a blend of black and folk metal with strong influences from their Irish roots. Their music and lyrics deal with cultural heritage, struggle, Celtic.
Primordial started out as a black metal band with some folk influences with their 1993 demo Dark Romanticism and 1995 debut album Imrama. With the 1998 album A Journey's End, Primordial underwent a strong stylistic change and delivered an album that was more original, personal and darker than anything they had done before. The different musical influences become more intertwined than ever before.
WHILE HEAVEN WEPT
While Heaven Wept is an epic doom metal band based in Dale City, Virginia, USA. The primary writer and overall engine of the band is main man Tom Phillips. Their melodic, classically influenced style could be compared to bands such as Solitude Aeturnus and Solstice (the latter of which Tom Phillips is a former member); however, 2003's acclaimed Of Empires Forlorn saw the band branching out into a variety of metal and progressive styles. This trend continues on their 2009 album, Vast Oceans Lachrymose.
While Heaven Wept's lyrics have traditionally dealt with sorrowful matters, namely, personal loss and despondency.
CORMORANT
Cormorant is an American progressive metal band from San Francisco, California, formed in 2007. The group consists of bassist and vocalist Arthur von Nagel, guitarists Nick Cohon and Matt Solis, and drummer Brennan Kunkel. Since its inception, Cormorant has remained intentionally and notably independent, despite reportedly being offered a number of record deals. Cormorant has eluded a specific genre label by incorporating elements of many different styles of music. While somewhat rooted in black metal, the group has been known to incorporate jazz, progressive rock, death metal and folk elements to its music, among others.
The band released their sophomore full-length album Dwellings on December 6, 2011 to critical and universal praise from both critics and fans alike. Highly influential sites such as npr.com, yahoo.com and about.com all listed Dwellings in their end of year favorites list, with NPR citing it as the number one metal album of 2011. "Dwellings is, far and away, the best metal record of 2011: an emotionally and musically complex album which wrestles with our desperate and sometimes violent attempts to secure a place in history.", says NPR's Lars Gotrich.
VIP Tickets
VIP includes reserved red chair seating, custom limited poster and early sound check access. $35