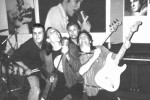 THE SCREAMIN' END
Recorded at Sun Studio in Memphis, Krazy Eddie and The Screamin' End came back to their sweet home Chicago to bring YOU that Juke Joint sound! From the roots of rock, to rockabilly and jumpin blues, you'll tap your feet and clap your hands – then jump up to dance! From the House of Blues Hotel in Chicago to the Blues in Schools, all events public and private, welcome Krazy Eddie and The Screamin' End. Book us for a show and/or come to a show and see what you've been missing.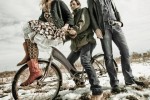 ANGIE PERLEY & THE HOWLIN' MOONS
Angela Perley & The Howlin' Moons formed in 2009 around singer-songwriter Angela Perley. The group consists of Chris Connor, Billy Zehnal, Steve Rupp, and Perley. Perley's music is nostalgic and heavily influenced by The Carter Family, Patsy Cline, Wanda Jackson, and Loretta Lynn, but Perley's song delivery is unique in the way she manipulates words and phrasings. Many songs contain themes of the moon, love, railroads, and death, and Perley often writes through different characters. The Howlin' Moons' live shows are high energy Americana-tumble- and-roll and are always captivating and authentic.