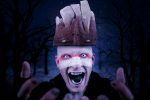 AESTHETIC PERFECTION
No love – just lies. In the blink of an eye, an explosion decays, eclipsed by the rhythm of a march; a raging inferno dwindles to ember before igniting again. AESTHETIC PERFECTION's new single, "Love like lies," contemplates the perils of passion and the menace of ambition. Delivering his signature, multifaceted style, Daniel Graves stitches together industrial, trap, and dark pop in an imaginative new step forward for AESTHETIC PERFECTION.
"Love like lies" is available worldwide since December 2nd, 2016, via Graves' own CLOSE TO HUMAN MUSIC label. The 4-track digital single features remixes Russian trap/chillout producer CHVRN, London-based electro artist MXD BLD, and Swedish electropop trio AUTO AUTO. A cassette release, limited to 100 pieces, will also be available through Bandcamp.
AESTHETIC PERFECTION is the solo project of Los Angeles-based producer Daniel Graves. Over a career spanning 15 years, five full-length-albums, and numerous singles and music videos, Graves has reinvented what it means to be a dark electro artist, combining industrial, pop, goth, and everything inbetween. AESTHETIC PERFECTION defies definitions in a world that demands them.